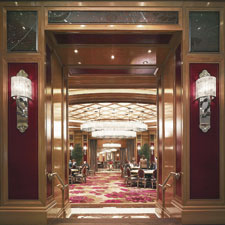 Though technically not a private gaming space, Bellagio ensures that its baccarat room has a private feel and will always convey a sense of discretion.
Behind the Bellagio: A World of Alternate Luxury Awaits the High Roller
There's an alternate universe of luxury for the hotel's high rollers that the average gambler will never see
(continued from page 1)
Upon arrival, the high rollers are ushered through a private entrance and greeted by their hosts and butlers, welcomed with bows or black-slaps or handshakes or whatever will make the gambler feel comfortable. Avoiding check-in counters altogether, elite players get whisked straight up to one of nine villas, the poshest accommodations at the Bellagio—complete with private pools, en suite hair salons, gyms and saunas—and probably won't be surprised to find all of their favorite things awaiting them. For a British restaurant impresario, due to arrive today with a celebrity friend in tow, villa butler Nikolaj Velimirovic follows a punch-list and procures goodies from home such as Major Grey's mango chutney, Cadbury's hot chocolate and Horlicks malt.
For another gambler, says Velimirovic, "We purchased a 60-inch Apple computer monitor. We keep it here for him and always set it up prior to his arrival. Other people require kosher food or natural food—one customer wants nuts, apricots, unsalted chips and dips filling the coffee table—or Chinese food. Asian guests prefer to eat dinner in the villa, so we bring it up for them from [the Chinese restaurant] Jasmine. Or else his favorite chef comes in and cooks right here, in the kitchen—which is closed off from the guest's quarters." Butlers are at the beck and call, 24/7, facilitating everything from the making of BLT sandwiches at 3 a.m. to liquor runs at dawn to, no doubt, all sorts of things that they'd rather not discuss for publication.
Nice as everything sounds for the gambler securely ensconced in a 10,000-square-foot Bellagio villa, he has not received all this care and preparation for nothing. It's all put forward because he is willing to gamble for ungodly sums at games that are always tilted against him. And, while staying at the Bellagio, the place where he is most likely to do his gambling is in a de facto private gaming lair called the baccarat lounge. Blackjack, craps, roulette and anything else that an uber high-rolling guest might want to play is available, but one gets the feeling that baccarat stands as the primary selling point.
Up front, visible from the main casino, resides a bunch of gaming tables that usually play at $100 minimum and may go to $300 on a busy night. Not bad, but not so different from what you find in the actual casino. Deeper in, and invisible to the general public, things get more private and the preparations become extensive. Rooms and tables are set aside for specific players with lines of credit or cash on deposit of $1 million or more, outfitted with the particular player's amenities of choice, tables at the ready. The problem, though, is that you never know when the guy who's nipping at your highest limits will want to come down to gamble. So, the thinking goes, always be prepared.
When word comes from the player's host that he's in the hotel and might want to take a shot, everything gets put into place as a provision. In the case of one whale, a man with a proclivity for eating hot dogs, dozens of fresh wieners—boiled, broiled and grilled—are kept out and kept fresh, anticipating his arrival.
The same goes for the dealers, standing at their tables, in pristine rooms, walls decorated with bland but attractive art, looking buttoned down and engaged, even if they are bored as hell.
Sometimes they do absolutely nothing for an entire eight-hour shift, just standing at attention, listening to music on the room's sound system and waiting for a particular player to come down and bet six figures per hand. "I'm in here, making the time pass by thinking about golf," says dealer Jerry Colianni, who's seen players bet as much as $300,000 per hand and has been tipped as much as $150,000 (although he's also had cards slammed down in front of him and watched people toss chairs when they lose). "There's one player, before he gets here, we have to line up bottles of wine and bottles of water, in a very specific way, so that everything faces north. Then he arrives and sets down an urn in the center." Did the ploy, which was obviously designed to bring him luck, have its desired effect? "He was in here twice and he lost both times."
Other players, of course, dispense with anything so obvious but have their own peculiarities. Colianni recalls a player who's so in love with action that he bets $300,000 per hand, demands that the games move quickly enough for him to get in six hands per minute, and has blackjack and baccarat tables at the ready so that he can switch from one to the other without wasting a moment. "At the baccarat table, I was dealing, another guy was paying and collecting and a third person calculated the commissions," remembers Colianni. "He gave us $84 million in action per hour, he played all day, his host was continually at his side and he wound up losing $30 million."
Rooms in the rear of the high-limit baccarat lounge are designed to convey a sense of discretion. Because the Bellagio does not have a license for private gaming, the doors cannot be closed, but other than that, within the three walls, it does feel reasonably private—if you can forget about the fact that one pit supervisor watches each table with an eagle eye and that when the stakes go up to nosebleed levels, every hand is also being monitored from the surveillance room, high above, via cameras that are strategically planted in the ceiling.
More often than not, they (and just about everyone else in the casino) are being watched by a brassy bottle-blonde named Margaret Brooks,  Bellagio's surveillance director. She oversees a crew of five per shift who joystick their way around the gambling floor.
Comments
2 comment(s)
DANIEL REID — SPRINGWOOD, New South Wales, Australia, — September 20, 2011 10:27pm ET
---
Brad Berko — Scottsdale, AZ, USA, — September 22, 2011 1:56am ET
---
You must be logged in to post a comment.
Log In If You're Already Registered At Cigar Aficionado Online