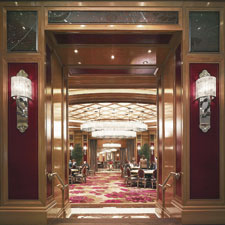 Though technically not a private gaming space, Bellagio ensures that its baccarat room has a private feel and will always convey a sense of discretion.
Behind the Bellagio: A World of Alternate Luxury Awaits the High Roller
There's an alternate universe of luxury for the hotel's high rollers that the average gambler will never see
Drive-up to the main valet drop-off in front of the grand, Italian-themed Bellagio, and you invariably see limousines idling and dispatching customers. But, contrary to initial impressions, true high rollers are not emerging from those stretches. The casino's biggest players are the ones that you don't see. They go in through a batcave-style entrance that few of us will ever experience.
And that's only the first misconception of what really goes on at the iconic hotel/casino/resort, as I discovered recently when given a chance to go behind the scenes and gain access to the private salons and inner workings of Bellagio. Originally the offer was to really go behind the scenes—to see the loading docks and the maid service, the meatlockers and butcher tables. I liked the concept but I was more interested in what makes the racier, more touchable side of the Bellagio tick. My request for access was granted.
It takes me into the bunker-like suite of offices where I wait patiently while Justin Manacher, vice president of national marketing, is on the phone. He's in the middle of negotiations that he hopes will lead to a household-name musical act doing a private show for a coterie of sky-high players. Eventually he hangs up the phone and looks at me. Manacher fully acknowledges that other casinos have nice suites, good gaming felts and similar amenities.
But Bellagio, he says, finds its edge away from the tables, by inviting top customers to golf the elite Shadow Creek with potential clients ("It's a place where deals get made," he says), to network alongside folks that they might actually do business with ("The Bellagio provides a playground of opportunities for wealthy people."), and to do schmoozy things that bear little direct relationship with gambling. "We've arranged to have players throw out the first pitch at a Dodgers game or to take a shot at an NBA game," he says. "And right now we're working on an artifact from Israel for a player who we think will appreciate it."
While those things may chum the waters, what really brings in profit-making gamblers are opportunities for said gamblers to make money. Casinos do it by putting on free-roll tournaments, in which you might have 100 big spenders playing in a gratis poker match with a first prize in the six figures. That's all well and good, and common enough, but Manacher goes a step further.
He makes sure that the highest of his high rollers receive a lacquered box, which allows them to jump to the semifinals and requires them to outplay only 30 people for the first prize (instead of the 100 or so that everyone else has to tangle with). He includes small but pricy gifts inside and cleverly worded come-ons. For an upcoming poker tournament, the lacquered box (which resembles a lap-sized humidor) contains a pair of Gucci sunglasses and an alluring invitation: "See yourself with $500,000."
As Manacher takes care of the big-picture stuff, a dozen or so floors up, in a 1,000-square-foot, one-bedroom suite, a spiky haired protégé by the name of Blake McDonald double-checks that beds are made, that a fruit platter is on order and that the bathroom is stocked with his gambler's amenities of choice. "If everything is not right," he says, "I'm the yelling board."
When he's not doing what he can to get his players to Vegas, often reaching out to them by text instead of phone ("Not everybody can talk about gambling all the time on the telephone," he says), McDonald prowls the casino floor, looking for fresh meat.
Earlier in the day he spotted a young gambler from India who, he recognized, was in the midst of his second trip to Vegas over the course of a single month. "He's gambling high enough to warrant a room and food, and he told me that he's paying for a room at the Stratosphere; he doesn't seem to know how things work here," says McDonald. "I got him into a limo, so that he could ride down to the Stratosphere, get his stuff, check out and come back to stay here for the week."
McDonald knew that a limo would be at the ready because there are invariably a handful of tuxedo-clad drivers, awaiting the dispatcher's marching orders in a scruffy lounge outfitted with leatherette furniture, a soda fountain and a TV that might as well be stuck on ESPN.
Drivers sit within view of a fleet of 25 stretched limos (plus a Rolls Royce that rarely sees the light of day). And in case the Indian guy needs to do a quick mend job while riding up from the Stratosphere, chances are that his Bellagio driver will be prepared with sewing kit, bobby pins, Super Glue and tools to repair glasses. "I've had guys get off of airplanes with broken eyeglass frames," says Rick Melchiorre, a 10-year veteran of the Bellagio stretch. "I ask the guest to hand me his glasses, I do a quick repair, and he is blown away."
Comments
2 comment(s)
DANIEL REID — SPRINGWOOD, New South Wales, Australia, — September 20, 2011 10:27pm ET
---
Brad Berko — Scottsdale, AZ, USA, — September 22, 2011 1:56am ET
---
You must be logged in to post a comment.
Log In If You're Already Registered At Cigar Aficionado Online