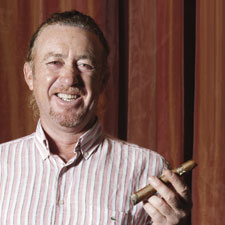 Miguel Angel Jimenez holds a cigar. Jimenez keeps about 400 cigars in his home humidor, mostly Cubans.
Miguel Angel Jimenez: The World's Most Interesting Golfer
Spain's Miguel Angel Jimenez enjoys cigars, wine and winning golf tournaments, not necessarily in that order
(continued from page 4)
"I love my country, I love my place and I feel golf is part of the economy of Andalucia and of Malaga," he says. "I feel that the people of this place deserve a special tournament. This is my fifth year now that I promote, and these are difficult times to get money from the companies. For the last couple of years there hasn't been that much money from sponsors, so to cover expenses I've had to go into my pocket. I am very loyal to what I am doing. I'm doing something for my place." 
He will always call Malaga home where his teenage sons Miguel Angel and Victor share time with him and their mother, from whom Jimenez is divorced. He doesn't know if his sons will take up golf seriously and would be pleased if they continued their education in a manner in which he did not. Still, he wants them to determine their own destinies, as he determined his.
Though at a rather advanced age now, he remains determined to be among the world's best, and to keep his worldly view of life. After the first round of British Open at Turnberry in 2009 in which he led with a 64, the best score of his career, Jimenez was asked what he was thinking. "That it would be nice to have a little whisky," he replied.
When it comes to golf and to life, Miguel Angel Jimenez will stay thirsty, my friends.
"He has the most-interesting-man-in-the-world look and mentality," says Tom Lehman.
Jeff Williams is a contributing editor for Cigar Aficionado.
You must be logged in to post a comment.
Log In If You're Already Registered At Cigar Aficionado Online