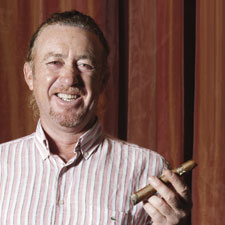 Miguel Angel Jimenez holds a cigar. Jimenez keeps about 400 cigars in his home humidor, mostly Cubans.
Miguel Angel Jimenez: The World's Most Interesting Golfer
Spain's Miguel Angel Jimenez enjoys cigars, wine and winning golf tournaments, not necessarily in that order
(continued from page 3)
Europe's victory over the United States was also Jimenez's finest showing in the Ryder Cup. Jimenez won two points, one in the fourball paired with Peter Hanson and one in the singles, trouncing the long-hitting Bubba Watson 4 and 3.
Jimenez's presence on the team was at once inspiring and calming. "It was great to have someone with that sense of calmness, with that experience," says Germany's rising star Martin Kaymer. "You just feel good when you are around Miguel.
Everyone does. He's larger than life and he adds that to everything he does."
"Miguel is a very competitive player as everyone knows," says Chubby Chandler. "He also brings the sense of calmness you need in that atmosphere. He won't get rattled and he won't let anyone else get rattled. He's the perfect teammate in every aspect."
(By the way, just to show that Jimenez isn't always so calm about things, he broke his putter over his knee on the 15th hole of a European Tour event in Bahrain this year, then went on to make three birdies putting with his lob wedge for a 65.)
The Ryder Cup makes Jimenez tingle. "The most important thing is to be a part of it," says Jimenez. "I want to win, I want Europe to win, of course. But the most important thing is that the game of golf wins. That is how it should be. It's all about the game that we love. Nobody loses there. It is the game of golf that wins."
Tom Lehman, the 2006 Ryder Cup captain, has been around Jimenez mostly in that supercharged setting. As a key player for the United States, and a three-time victor in the pressure-packed position of leadoff singles player, Lehman knows the Ryder Cup cauldron intimately. So he was mightily impressed by what he saw of Jimenez before his singles match against Watson.
"At the Ryder Cup in Wales there was a group of English guys dressed up like him with ponytails. It was the day of the singles and that's the day that all the players are just hoping not to puke," says Lehman. "So I'm near them when Miguel comes along and they ask me if I can ask Miguel if he  would take a picture with them. Miguel comes right over, I take a picture with my iPhone and I e-mail it to each of them. Now how many guys would have ever done that in that situation. Miguel really engages the fans."
And it's not just what Jimenez does on the course that impresses Lehman. "He's always the person who will walk across the room to say hello," says Lehman. "Not just once, but always. That says something about a person."
It says a lot about a person, a professional golfer, that he would be willing to dig into his own pocket to make sure a golf tournament goes on, and in the proper manner. That is what Jimenez has been doing for the Open de Andalucia.
You must be logged in to post a comment.
Log In If You're Already Registered At Cigar Aficionado Online