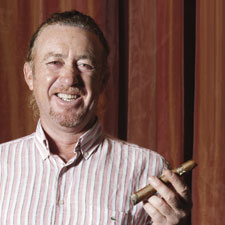 Miguel Angel Jimenez holds a cigar. Jimenez keeps about 400 cigars in his home humidor, mostly Cubans.
Miguel Angel Jimenez: The World's Most Interesting Golfer
Spain's Miguel Angel Jimenez enjoys cigars, wine and winning golf tournaments, not necessarily in that order
(continued from page 2)
Says Thomas Bjorn, the Danish European Tour veteran: "Miguel enjoys everything about the lifestyle of the game, and that's very important. Traveling as much as we do, eating out as much as we do, being away from a steady home life, Miguel embraces it all and enjoys himself."
Then there's his Ferrari. Perhaps nothing gives him quite so much pleasure as a spin in his red 1999 Ferrari 550 Maranello which he will drive to all the tournaments in Spain. "I love this car," he says, but nowadays he can't really live up to his nickname. He often worked on his own cars back in the 1980s, but as they became more sophisticated, his mechanical skills didn't keep pace. "I really can't work on this now myself," he says. "The cars these days, they are all electronic. I really can't be The Mechanic."
You must know, too, that Jimenez is an aficionado of good shoes. He has his golf shoes and his street shoes custom made by Gigi Nebuloni, a small, family-owned business in Milan. There is nothing that quite stimulates his comfort hormones more than slipping on a pair of Nebuloni shoes. He has about 50 pairs of the golf shoes alone, and they stand out on the Tour as classics now that some form of cross-trainers has become vogue.
"These are pure leather, very soft," says Jimenez, who conditions them with horse fat. "I always liked very good shoes. I have been with them 11 years now. You take them from the box and they feel so good right away. I don't like tennis shoes, rubber shoes. I always liked proper shoes, leather shoes."
ith all these embellishments of the good life available to him, Jimenez remains passionately devoted to the game. His European Tour career might not be considered stellar but is certainly by any measure successful. His biggest victory was the 2008 BMW PGA Championship. His 2010 season was a sparkler with wins in the Omega European Masters, the Alstom Open de France and the Omega Dubai Desert Classic. He has not won in the United States but has played in several major championships and World Championship Golf events. He finished second in the 2000 U.S. Open and third in the 2001 British Open.
Then there is the Ryder Cup, central to his golf psyche.
"It is very important to me to try to play the Ryder Cup. It is a magnificent tournament to me, it is tremendously exciting," says Jimenez, his voice rising ever so slightly. "It's the heaven of golf. You need to be inside my skin to know what is going on there."
Appropriately, his connection with the Ryder Cup came in Spain when European captain Seve Ballesteros asked him to be a vice-captain for the matches at Valderrama. He was deeply honored and humbled to be chosen by Spain's greatest player, and he soon learned that he would be deeply moved by the experience, so much so that he would give it his all to compete.
He played on the 1999, 2004 and 2008 teams with limited success and was not particularly happy that he lost all three of his singles matches. He had also not qualified for a Ryder Cup that had been played in Europe, so he doubled his efforts to qualify for the 2010 team, knowing that it was unlikely that captain Colin Montgomerie would make him a wildcard selection if he didn't qualify on points.
When Peter Hanson won the Czech Open in August, he earned enough points to put Jimenez's Ryder Cup position in jeopardy. So Jimenez was forced to make a difficult, wrenching decision. He had committed himself the last week of August to attending the wedding of his nephew Fernando, who was not just a beloved family member but also a promoter of the Andalucian Open, a tournament that is chiefly supported by Jimenez himself. Jimenez chose to bypass the wedding for the Johnnie Walker Championship that week so he could earn points to make the team. He collected enough points at the Johnnie Walker to assure his place, and had Fernando and his new bride as his guests in Wales at Celtic Manor that week.
You must be logged in to post a comment.
Log In If You're Already Registered At Cigar Aficionado Online