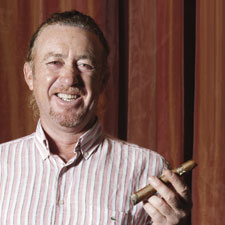 Miguel Angel Jimenez holds a cigar. Jimenez keeps about 400 cigars in his home humidor, mostly Cubans.
Miguel Angel Jimenez: The World's Most Interesting Golfer
Spain's Miguel Angel Jimenez enjoys cigars, wine and winning golf tournaments, not necessarily in that order
(continued from page 1)
Soon he was coming back often for the pesetas, and for something more. The game was starting to creep into his heart, and the older caddies were teaching him to hit balls, out of sight of the club members who frowned on them doing anything but carrying their bags. The 1979 Spanish Open was held at Torrequebrada and Miguel was able to get a bag and thus get a close-up view of the magnificent Spaniard Seve Ballesteros and of the talented Scotsmen Sandy Lyle and Sam Torrance.
"After I finished the army, my mandatory duty, I was 21. I knew that I wanted to play golf," says Jimenez. "I always like to compete, right from the beginning when I was caddying at 15. Seve was already a winner when I started to play golf. He's nearly seven years older than me. He won his first major (1979) the year I really started to play. He become a great player, it was very good to see."
Miguel Angel Jimenez wasn't Seve Ballesteros, however. He wasn't a prodigy. After turning professional in 1982 it took him a while to finally reach the European Tour in 1988, to win his first tournament in 1992, to become a European star with four victories in 2004. All along, he had no doubt where he was heading and what he wanted—a life built around the game. And it would be a complete life, full of rich details.
In a sense, Miguel has become the perfect representation of the European Tour, which still has a more idiosyncratic atmosphere than its big brother, the PGA Tour, in the United States. He's a true individual, with a very distinct character but that fits in well in Europe. He thinks nothing about having a glass of wine before he goes out to play. He will surely have wine at dinner and maybe a nice brandy or whisky.
He always enjoyed wine, but once becoming successful he could indulge in it, especially his much beloved Riojas ("They should call me Miguel Angel Rioja!"). He went from cigarettes to cigars, gaining a taste for Cubans. His fondness for cars (he worked in an auto service shop for a few months, earning him the Tour nickname "The Mechanic") could now be translated to ownership.
Being a very proud Andalucian, you just had to figure his taste in wines would center around the Spanish greats, especially those from Rioja. Among his collection are Cirsion, Ardanza, Torre Muga, Marques de Riscal and Roda. He also has a number of wines from Ribera del Duero—Pesquera, Protos, Vegas Sicilia, Emilio Moro, Abadia Retuerta and Mauro.
Of course he also enjoys a glass of fino sherry and a number of rums including Barcelo Imperial, Brugal and Zacapa. A Bushmills 1608 Irish whiskey or a Lagavulin 16-Year-Old single malt Scotch whisky will do him quite well. "The Lagavulin is nice and smoky, goes great with a cigar," says Jimenez, relishing the words in the manner he would relish the whisky and the cigar.
Then there are the cigars. Ah, yes, the cigars. He usually smokes four or five a day. He will smoke cigars during practice rounds and pro-ams, but he does not, he is careful to say, smoke during an official round. But you can bet a box of Montecristos that he will have one just before he tees off and just after he finishes, often lighting up before he signs his scorecard. He is such a fan of the Cuban cigars that he attended the 2010 Festival del Habanos.
"I love Cuban cigars. They have that spiciness and sweetness that are missing from some others," he says. "One day at the festival I smoked nine cigars and I feel nothing in my throat. That is good cigars, no?"
He likes his cigars big and juicy, generally a 52 to 56 ring. His favorite is the Siglo VI and he regularly enjoys the Cohiba Behike, but really any Cuban cigar will do. He figures he has about 400 cigars in his humidors, and he can't quash a wry grin when saying that he gets them at a bargain rate in Spain.
"It is relaxing to enjoy a good wine, a cigar, good food, a whisky," he says. "You have to take the time to enjoy them. You cannot enjoy them if you rush them, no? You cannot enjoy life if you rush."
You must be logged in to post a comment.
Log In If You're Already Registered At Cigar Aficionado Online