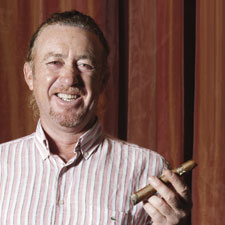 Miguel Angel Jimenez holds a cigar. Jimenez keeps about 400 cigars in his home humidor, mostly Cubans.
Miguel Angel Jimenez: The World's Most Interesting Golfer
Spain's Miguel Angel Jimenez enjoys cigars, wine and winning golf tournaments, not necessarily in that order
Hitting on the terrace of the Doral Country Club in Miami, a demitasse of espresso in one hand, a Vegas Robaina cigar in the other, Miguel Angel Jimenez could have been another spectator at the Cadillac World Golf Championship event. With his graying red ponytail and goatee, his little pot belly, his air of ethereal calm accentuated by the faint haze of smoke, the 47-year-old Spaniard struck a pose that belied the fire within—a fire that burns for golf, a fire that burns for life.
In the era of flat bellies and distant personalities, in the era defined by Tiger Woods, fitness trailers and prize money fit for a king, Miguel Angel Jimenez stands as his own man. Sure, he'll hit balls before he plays. But he might also have a glass of wine. Sure, he'll putt and chip. But he will certainly have a cup or two of espresso. Sure, he's determined to be the best player he can be (with 18 European Tour victories), but he will also make sure he takes the time to savor his life.
European super agent Andrew "Chubby" Chandler has seen all the great ones of the last four decades. He represents Lee Westwood, Darren Clarke, Padraig Harrington and the blossoming Rory McIlroy. He does not represent Jimenez, but he unabashedly admires him.
"He's a man of his own and everyone appreciates him," says Chandler. "He lives his life and plays the game the way he wants to. He never rushes anything, he savors everything. He just inhales life, and he exudes it. I've never known someone more comfortable in his own skin than Miguel."
Between puffs and sips on the Doral terrace, Jimenez sums up his world: "I give all my life to golf, and golf gives me all my life."
To watch Jimenez play golf, to watch him connect with other players, to watch him acknowledge his fans, is to see a man who savors what he is doing. His long, sweeping, fluid swing, his easy, deliberate stride, his smile that brings an extra crease to his well-weathered face all speak of a man who will stop to smell the roses.
"It is important, no, to love what you are doing?" asks Jimenez. "It is important to enjoy the things that life brings you. I always know that when I start to play golf, that this is what I would like to do. I become good enough to be successful and have many good things for my life."
Right then, Jimenez picks up the reporter's tape recorder from the table and holds it close to his mouth, like a microphone: "I just want to say that golf is a beautiful game and it has given me a beautiful life."
These passionate words are typical from a man who lives the game and doesn't just play it, who lives his life and doesn't merely walk through it. And the words come from a man who knows how lucky he is to be doing what loves.
Jimenez is one of seven brothers born to a modest family in Malaga, Spain. His father was a mason and his mother had her hands full with so many boys. His oldest brother Juan caught the golf bug by caddying to make money, and eventually became a teaching professional at the Torrequebrada club. Juan needed extra caddies and the 15-year-old Miguel, having dropped out of school, volunteered. It wasn't the golf that interested Miguel, it was the pesetas.
You must be logged in to post a comment.
Log In If You're Already Registered At Cigar Aficionado Online