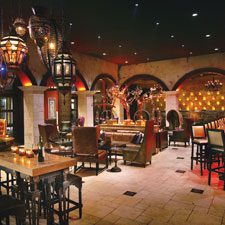 The interior of Burn by Rocky Patel in Naples, Florida. The opulent spot is part of a growing trend of branded cigar lounges opening worldwide.
Lounges of Distinction
Smoking lounges sponsored by cigar brands are opening virtually everywhere
(continued from page 4)
Deloungings aside, the concept is thriving, especially as anti-smoking regulations leave cigar shops as one of few oases for cigar lovers. Retailers are benefiting from the relationship.
"As far as I can see, there's no downside for a retailer to open up a branded lounge," says Borysiewicz. "It's just a question of the right cigar companies partnering with the right cigar shops."
Florida tobacconist Abe Dababneh agrees. Half of his six Smoke Inn retail shops are branded Montecristo or Romeo y Julieta, including a 24-hour lounge. "It's been a very good relationship," he says. "There are certain obligations of our contract—we have to have certain facings and we can't have other branded paraphernalia—but they've been very good with their support. Having a branded lounge creates a clean, cohesive atmosphere and a nicer environment to smoke in."
Dababneh has no restrictions on how many cigar brands he can carry, but says a branded cigar lounge can sometimes influence purchases.
"In some of my shops, my customers are very savvy smokers and they know what they want," he says, "but in others, like our Montecristo lounge at the PGA National Resort, you get more transient smokers who aren't as sure, so naturally, they go right for Montecristo."
Perhaps that is an example of what marketing analysts call "buying the brand over the product." Of course, many cigar smokers like to think that they are purely quality-based consumers and therefore more immune to marketing. So, at the same time, it is also the job of the cigar brand to reinforce the discriminating smoker's perception of himself.
If there is in fact equity in a branded lounge, it isn't just through brand exposure alone, but through the association of experience. The customer has had an enjoyable, relaxing cigar, a communal smoke and a positive connection. Over time, he could conceivably come to associate the experience with the lounge's logo.Starbuck's chief executive officer Howard Schultz built his coffee empire on this very concept, and adopted the following mantra from his former advertising executive Scott Bedbury:
"A great brand raises the bar. It adds a greater sense of purpose to the experience, whether it's the challenge to do your best in sports and fitness, or the affirmation that the cup of coffee you're drinking really matters."
Or the cigar you're smoking.
You must be logged in to post a comment.
Log In If You're Already Registered At Cigar Aficionado Online