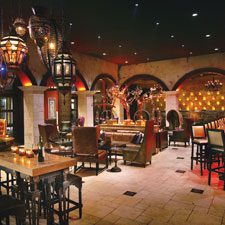 The interior of Burn by Rocky Patel in Naples, Florida. The opulent spot is part of a growing trend of branded cigar lounges opening worldwide.
Lounges of Distinction
Smoking lounges sponsored by cigar brands are opening virtually everywhere
(continued from page 3)
Outside the United States, one could argue that the 142-shop La Casa del Habano chain is a branded lounge for all Cuban cigars. In 2006, the first Cohiba Atmosphere cigar lounge opened in Tokyo, and now there are locations in Cancún, Buenos Aires, Hong Kong, Prague and Beijing.
Casa Fuente, the only branded cigar lounge on the Las Vegas Strip, has become more than just a cigar lounge, but a destination spot for cigar lovers. A beacon for all things Fuente, Casa Fuente's colorfully tiled floor, lively bar and boldly baroque Fuente Fuente OpusX sign ushers you in to a humidor full of every brand and size made at Tabacalera A. Fuente y Cia., including complete portfolios of Ashton and Diamond Crown, a comprehensive selection of Arturo Fuentes, plus a vertical of the coveted OpusX brand, which extends to novelty sizes that are otherwise commercially unavailable, and a house brand called Casa Fuente.
As a cigar oasis, Casa Fuente offers an ambience that is both distinctly Vegas and at the same time, evokes the comfortable and convivial atmosphere of a Havana café. As a business model, Casa Fuente exposes its entire repertoire to an international clientele interested in nothing more than spending money and stimulating their senses. It opened in 2005 and is to date the only Casa Fuente in existence.
Cigar giant General Cigar Co. has invested in both the retrofit and flagship lounge models. Club Macanudo, General's largest lounge, is the first branded cigar lounge in the United States. It opened in 1997 and has become a world-class destination for cigar smokers.
The New York City club subtly intermingles stately décor and clubby ambience with Macanudo wall sconces, monikered ashtrays and branded bar napkins. The layout is zoned to welcome the cigar enthusiast of every social echelon. A marble lobby hall takes you to a reception room that leads you to the bar area and then gracefully transitions to a back parlor. You may consciously or subconsciously pick up on Punch or Macanudo logos on your way to a table at the full-service restaurant, or to a leather chair in one of the smoking salons. The club's cocktail program, table service and extensive cigar menu serve to enhance General's brand portfolio.
The entrance to Club Macanudo in New York City, the original branded cigar lounge.
Walls and walls of cigar lockers are occupied by celebrities and international clientele. Their engraved name plates are, in and of themselves, a form of endorsement, but General has also acknowledged the value of retrofitting and has branded a few small cigar shops as well. Nice Ash Cigars of Depew, New York, (a suburb of Buffalo) was the first "red dot" Cohiba branded lounge and Monte's Pueblo Pipe of Albuquerque, New Mexico, was christened the first Club La Gloria Cubana in 2009.
Swiss company Davidoff of Geneva, with its branded flagship stores and lounges in New York City, has a different retail history and unique relationship with its patrons. New York's general store manager Michael Herklots explains: "The Davidoff store in its origin was the finest tobacco shop of its time that sold only the finest products available in the most professional and helpful way. But it didn't sell Davidoff brand products because there weren't any. Buying the product was the experience."
As time went on, Davidoff cigars and accoutrements came to the market and are now an internationally recognized commodity sold in branded stores and to appointed merchants. Not all Davidoff stores have dedicated lounges. Some shops have only a seat or two while others are smoke free. The Davidoff shop in Manhattan's Columbus Circle has a lounge. [At the time of this writing, the Madison Avenue shop, which no longer allowed smoking, was moving to another location on Madison Avenue, which is slated to have a smoking lounge.]
Herklots calls such lounges a "win-win" for customers, but warns that a branded lounge can also create conflict with other brands. "Some companies might not want to host an event in another brand's lounge," he says. "It could get confusing, but that is up to the brand and the shop owner." Ultimately, Herklots maintains that a branded lounge, advertises the cigar "over and over," further driving home the impact, awareness and familiarity of the brand's name.
Like all business models, branded cigar lounges don't always work. Club Macanudos have been shut down in Chicago, Miami and Washington, DC; smoking bans forced a Montecristo lounge out of PNC Park in Pittsburgh; Bethesda's La Flor Dominicana Lounge is no more; and both Camacho and Gurkha had to pull support from two separate shops in Long Island.
You must be logged in to post a comment.
Log In If You're Already Registered At Cigar Aficionado Online