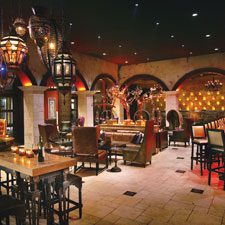 The interior of Burn by Rocky Patel in Naples, Florida. The opulent spot is part of a growing trend of branded cigar lounges opening worldwide.
Lounges of Distinction
Smoking lounges sponsored by cigar brands are opening virtually everywhere
(continued from page 2)
They hold stacks of unbanded cigars, a combination of first releases, small batch or last-run brands. A V.I.P. program takes the experience to another level with a spacious bar area, conference room and even a theater.
Not every setup for Altadis has to be so grand. The company has smaller lounges at Cuenca Cigar in Hollywood, Florida, The Porter House restaurant in Montvale, New Jersey, and in Washington, DC's, FedEx Field.
Camacho Cigars took the initiative of branding a stadium in 2006 when it opened the Camacho Cigar Bar at Comerica Park in Detroit, home of the Tigers. Since then, it has opened other lounges.
"I like supporting shops because I believe that the U.S. will eventually become a completely nonsmoking country," says Camacho president Christian Eiroa. "Stores will be the last place to smoke, so I'll do whatever I can to support them."
Eiroa is in the midst of branding a Smoke Inn tobacconist in Port St. Lucie, Florida. "It really allows us to help the retailers," Eiroa adds. "Independent cigar store owners are getting clobbered right now. It's tough to be in business, but the lounge gives the retailer an edge over catalog or Internet vendors."
Branded cigar lounges aren't only the domain of larger brands. In 2009, Toraño Cigars partnered with Fumée Cigars in Cedar Park, Texas, and brand owner Charlie Toraño is very pleased with the results.
"The branded lounge is a win-win situation for the distributor and the tobacconist," Toraño says. "From our standpoint, it gives us more facings in the store, it gives us an opportunity to make a major branding impact, it brings us closer to the tobacconist and the staff becomes more educated about our product. This all translates to the store's customer base and takes the relationships to another level."
Tabacalera Perdomo and My Father Cigars Inc. have also joined the trend, sponsoring branded lounges with tobacconists in Alabama and Arizona, respectively. There's also a Gurkha lounge in Long Island, New York, two Nestor Miranda branded lounges and a La Aurora lounge. (Cigar Aficionado magazine is also part of the trend, with a branded smoking lounge at the Cigar Inn on Second Avenue in Manhattan.)
In South Norwalk, Connecticut, the Cigar Factory Outlet is home to the largest Oliva Cigars branded lounge and club. An imposing awning emblazoned with the Oliva logo is telling of the store's focus. Although it carries myriad brands, Oliva's strong presence is obvious, despite the Cigar Factory Outlet's large warehouse setting. "Our clientele is very Oliva heavy," says Brian Shapiro, co-owner of the store, which charges a $350 annual fee for admission into the lounge. "Oliva rugs, ashtrays and cutters just reinforce the brand to my customers. Oliva is also the only brand we'll sell [to non-club members] by the stick."
There are two more Oliva branded lounges in the United States—one in Tampa, Florida, (Tampa Humidor) and another in Baltimore (Cross Street Tobacco). Oliva also enjoys international exposure with lounges in the Netherlands, as well as Berlin and Düsseldorf, Germany.
You must be logged in to post a comment.
Log In If You're Already Registered At Cigar Aficionado Online