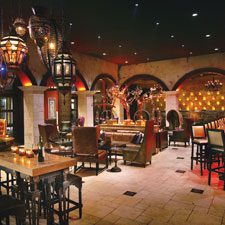 The interior of Burn by Rocky Patel in Naples, Florida. The opulent spot is part of a growing trend of branded cigar lounges opening worldwide.
Lounges of Distinction
Smoking lounges sponsored by cigar brands are opening virtually everywhere
(continued from page 1)
The lounge defines itself by its Avo-branded merchandise, a cigar exclusive to the lounge, and an alabaster bar top where smokers can sip beer, wine or port. A grand piano was also brought in for live performances by jazz pianist and brand ambassador Avo Uvezian himself.
A few years later, J. C. Newman Cigar Co. put a well-funded lounge-branding campaign in motion. In September 2007, Davidus Cigars in Urbana, Maryland, hosted the first Diamond Crown smoking room. This got the attention of Borysiewicz and a few months later, another Corona Cigar shop, this one in Orlando, became the stage for an amenity-rich, 3,000-square-foot Diamond Crown lounge within its 6,500-square-foot store.
"When we were presented with the lounge concept from Diamond Crown, I was impressed at just how well conceived the image and plan was," Borysiewicz says.
Corona Cigar's Diamond Crown lounge is the largest, and most elaborate space in the Diamond Crown lounge program. Themed to be reminiscent of a Nicaraguan villa, the lounge offers full bar service, food, plasma televisions and the complete portfolio of J. C. Newman products.
Diamond Crown lounges are popping up all over the United States, and today there are 54 in 22 states, plus an honorary Diamond Crown lounge in Afghanistan.
"The designation of a Diamond Crown lounge is more of a philosophy than a look," says Eric Newman, president of J. C. Newman, which is based in Tampa, Florida. "All of our cigar lounges have a unique character but share the same commitment to excellence that is befitting the name Diamond Crown."
Though not every shop needs so much space to participate, not every shop automatically qualifies. "They have to be nominated by their J. C. Newman regional sales manager and they have to meet a certain criteria within the home office," adds Shanda Lee, J. C. Newman's vice president of marketing. "Once that is established, we have a comprehensive program that allows us to partner with the retailer. Our main goal is to provide enough value-added support through product, advertising and other methods to help the retailer increase his business overall, not just with Diamond Crown."
The Vintage room at Casa de Montecristo outside Chicago.
The trend is spreading. Altadis U.S.A. Inc. has aggressively implemented its own form of branding. In only two years it has converted almost 30 tobacconists into Montecristo or Romeo y Julieta branded lounges. "We look at every shop on a case-by-case basis," says Janelle Rosenfeld, vice president of premium cigar marketing and communications for the Fort Lauderdale, Florida, company. "We have to consider geography and demographics. The retailer has to already have a certain type of space and a distinct lounge area. This is very important. With smoking bans and anti-smoking legislation being so pervasive, retailers are becoming destinations for cigar smokers. We're adding more lounges on a monthly basis."
One of Altadis's particularly impressive co-ops is the immense Casa de Montecristo in Countryside, Illinois. It's a meticulously designed, 8,000-square-foot cigar emporium where the Montecristo logo recurs throughout the store without garish overstatement. Anything from etched glass to ashtrays bear the mark, and the selection of Montecristo cigars is all-inclusive, spanning the entire regular-production portfolio as well as limited-edition releases.
Casa de Montecristo's combination of amenities and distinct design elements just might make this haven a glimpse into the future of the high-end cigar retail landscape. The front area is furnished with a series of 40 solid-elder-wood cabinet display humidors filled with cigars, which supplement the shop's walk-in humidor, housing around 6,000 boxes. A limestone and walnut inner chamber deemed the Vintage & Rare Gallery is a veritable cigar cellar of aged smokes, and the Reserve Selection Room is a small glassed-in space built with 42 honeycombed cubicles crafted to resemble the shelving units of an aging room.
You must be logged in to post a comment.
Log In If You're Already Registered At Cigar Aficionado Online