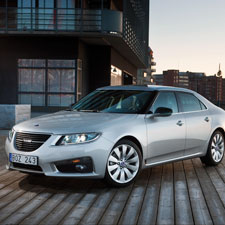 Saab had waited 13 years to update its flagship 9-5 model, but its very release was in jeopardy until a new owner came to the rescue.
Will the Saab Story Have a Happy Ending?
Rescued at the brink of oblivion by a Dutch upstart, the quirky Swedish car that was "born of jets" looks to a better life after another restructuring
(continued from page 2)
Legend has it that when he began his brief foray into automotive manufacturing, entrepreneur Henry J. Kaiser boasted, at an industry event, that he was ready to kick in what would amount to a billion dollars today. "Give that man one chip," chimed in the then-president of General Motors.
By that measurement, Muller doesn't even have a full chip. And his new company has been draining what cash he has. Prior to the sale of its Dutch sports car operation, Spyker reported a third-quarter loss of nearly $56 million  and is reportedly continuing to bleed red. But "It wasn't unexpected," said Mike Colleran, the former GM executive who served as the transition chief of Saab's U.S. operations before leaving the company earlier this year. "Starting up a new business, you're going to see your money go, but you have to invest in the business."
For his part, Muller is typically unflappable, pointing out that "If we didn't have all these (short-term) issues, we wouldn't have gotten Saab for $74 million-less than what its wind tunnel is worth. We would have paid $7.4 billion." Not only did he get the wind tunnel and the Trollhätten plant but a new 9-4 crossover and a nearly-completed remake of the main 9-3 model line.
The first thing Muller had to do once possession of the company changed hands was to get production of the critical new 9-5 restarted. Ramping up production at a plant like Trollhätten wasn't as simple as turning the key on the car's center console, he quickly realized. It took nearly two months simply to get all the suppliers to start shipping parts again. And by the time we first spoke at the Swedish factory, in mid-2010, the lines were running at only a fraction of capacity.
Even with cars rolling out once again, the new management team had to work out the kinks in the distribution system. In the U.S. alone, dealers had closed by the dozens and sent their service staff packing. Then there is the challenge of telling the world the Swedes are back in business. "If Saab is perceived as a zombie, who would want to get onboard?" asks Muller. "No one buys a car from a company they think is dead. But most people now think that's what happened."
 
The rise of the PhoeniX
 
The maker has been struggling to convince potential buyers it has plenty of life left, starting with a series of eye-catching-if costly-TV commercials. But Saab simply doesn't have the budget to compete in the broadcast marketing game with bigger competitors, like BMW and Mercedes-Benz, nor should it, suggests analyst Dan Gorrell, of AutoStrategem. Embracing its reputation for quirkiness lends itself to alternative marketing strategies—and unusual concept vehicles like the PhoeniX, which made its debut at the Geneva Motor Show this March.
 
The striking design is the work of Saab's new design chief Jason Castriota, the multitalented designer responsible for exotic products such as the Maserati Birdcage concept and the Ferrari 599 GTB. Castriota calls the prototype "aero-motional," a reference to Saab's aeronautic roots. The front end of the concept car, he explains, is almost a nose cone flowing into a fighter jet's body. With its highly aerodynamic Kamm back, the PhoeniX show car has a surprisingly sleek 0.25 coefficient of drag, on a par with some of the best race cars.
While PhoeniX won't return in production form, Castriota insists it was critical to go with the over-the-top design because Saab has to work harder than brands like Audi or BMW to get attention. "You don't want to have a wooden spoon in a knife fight," is how he puts it. And even so, the concept car has plenty of distinctive styling cues that would suggest the path Castriota is taking with the upcoming 9-3 replacement and products beyond, such as the small 9-2 model.
 
Coming up with the cash for the 9-2 remains a challenge, one that Muller hopes to overcome by partnering with another automaker-an increasingly common process in today's automotive world. He has already signed up a dream deal with BMW, with the German maker planning to provide powertrains for future Saab models. Meanwhile, Detroit's American Axle will help Saab launch a pilot fleet of battery cars.
 
More immediately, the new 9-4X, Saab's first crossover-utility vehicle, should be rolling into U.S. showrooms by the time this story reaches print. And the maker is getting closer and closer to launch of the new 9-3 which, if tradition holds, should be its bread-and-butter car.
Until then, it will be a struggle. Saab sold just 36,000 vehicles last year, a fraction of its former numbers but understandable considering it wasn't even building cars at the start of 2010. Muller is confident that, with the new 9-5 now in full production and with the launch of the 9-4X, volume will improve significantly this year. "We don't need to sell six million vehicles. We don't need to sell one million. Saab," he proclaims, "will be very profitable selling 120,000." And its breakeven should be only about two-thirds of that, if the plan is on target.
There are more than a few skeptics—even Antonov has suggested that Saab will fall short of its target in 2011.
Aaron Bragman, an analyst with IHS Global Insight says that while Victor Muller is a persuasive man, he clearly has set a hellacious goal for his company. "While force of personality is helpful, it will come down to the numbers," cautions Bragman, and it remains to be seen not only if the 120,000 sales target can be reached but whether it can sustain profitability. Though Saab will have a good product lineup in the near-term, keeping it competitive will be a big challenge, even with partners like BMW.
For his part, Muller doesn't dismiss the critics, but he is convinced that if his Swedish brand can simply tap "2 percent" of the 6 million current and former Saab owners and bring in just a modest stream of new converts it should be able to keep the Trollhätten line rolling, and at full speed.
You must be logged in to post a comment.
Log In If You're Already Registered At Cigar Aficionado Online