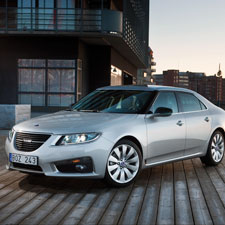 Saab had waited 13 years to update its flagship 9-5 model, but its very release was in jeopardy until a new owner came to the rescue.
Will the Saab Story Have a Happy Ending?
Rescued at the brink of oblivion by a Dutch upstart, the quirky Swedish car that was "born of jets" looks to a better life after another restructuring
(continued from page 1)
With the White House orchestrating the process, the journey through federal bankruptcy court was a surprisingly swift one, but the draconian restructuring plan that emerged would wipe out tens of billions of dollars in equity—and require GM to either close or sell off half its North American brands. The Pontiac, Saturn and Hummer divisions were dispatched.
 
Saab seemed poised to enjoy a better fate; as many as 27 potential buyers looked over its books. But what makers like BMW and Fiat saw sent them scurrying and by mid-2009 only three remained. Of that group, the most serious offer came from Koenigsegg, but by the end of autumn, it became obvious the small Swedish supercar manufacturer was in way over its head and couldn't pull together the necessary financing.
 
Any hope that Stockholm would mirror a Washington-style bailout was dashed when industry minister Maud Olofsson declared, "The Swedish state and taxpayers in Sweden will not own car factories." Though GM still promised to entertain alternate bids, its tough new management team, prodded by the White House to move with all possible haste, began winding down Saab operations. Suppliers were told to cancel orders. The board of directors was disbanded as Saab was taken into administration—the equivalent of Chapter 11—and the production of the new 9-5 sedan, which had begun only weeks earlier, was halted.
 
The Dutch White Knight's descent into hell
As the New Year rolled in, it was Saab that seemed ready to have its life-support pulled. GM had even begun selling off its assets, the Chinese carmaker BAIC purchasing the intellectual property rights and tooling for the prior-generation 9-5 and smaller 9-3 models. But suddenly, three new offers landed in GM's corporate lap.
Even then, GM continued to wind things down as two bids faltered. But the troubled U.S. maker clearly underestimated the determination of one of the bidders: Spyker, a miniscule Dutch sports car maker. In a surprise January 26th, 2010 announcement, GM confirmed it had a potential deal in hand. And just four weeks later, after winning Stockholm's backing for a loan from the European Investment Bank, Spyker was handed the keys.
And only then did Victor Muller, the Dutchman behind the White Knight effort, finally start asking himself what he had gotten into.
More experienced auto veterans might have walked away from Saab, but the unlikely new owner had long before proved himself tenaciously willing to take risks others wouldn't even consider. Trained at Leiden, Holland's oldest and most respected university, this son of a chartered accountant quickly migrated to mergers and acquisitions, and in 1989 was hired by the vast conglomerate Heerema. Two years later, Muller bought out the firm's maritime towing and salvage company, redefining himself an entrepreneur "buying up businesses that needed repair."
Eventually selling off Wijsmuller, the former Heerema subsidiary, could have set Victor Muller up for life, but at 40, he wasn't the type to drift into lavish retirement. Not that he didn't enjoy the trappings. He acquired The Highlander, one of the yachts owned by the late Malcolm Forbes. And he began building another fleet—of cars. At one point he owned more than 50, ranging from new Ferraris to pre-War Rolls-Royces and Invictas.
It's hard to say where the bug bit, but by 1997 Muller wanted to add another nameplate to his collection. In this case, he didn't just buy an old Spyker, he revived the Dutch automaker itself, which had gone out of business in 1925. Ironically, Spyker also had an aviation heritage, the company spun off from a World War I-era aircraft manufacturer. But as small as Saab might have been, it was orders of magnitude larger than Spyker, which launched its first all-new model in 2000 and has since measured total sales in the hundreds.
The revival of Spyker as a viable business "was hell," recalls Muller, "self-inflicted hell. But this is what I chose and I stuck with it." To the skeptics, the M&A specialist's descent into Hades might have only begun with Spyker. The question is whether he is about to dive even deeper into Dante's inferno.
 
Entrepreneurs and oligarchs
The auto industry is not a business for the fainthearted, and even big fortunes can quickly turn into little ones when things go wrong. Hoping to preserve what cash he could and keep both car lines going, Muller made the decision to sell off Spyker, earlier this year, to his former partner, the Russian oligarch Vladimir Antonov. (GM had forced the Slavic businessman out of the company when it refused to even negotiate with Spyker if Antonov was going to be part of the deal.)
"This transaction will allow Spyker Cars N.V. to focus on the Saab Automobile business exclusively, will eliminate the requirement for us to make further capital investment in the Spyker (brand) and will reduce our debt," the Spyker Chairman Hans Hugenholtz said in a statement.
You must be logged in to post a comment.
Log In If You're Already Registered At Cigar Aficionado Online