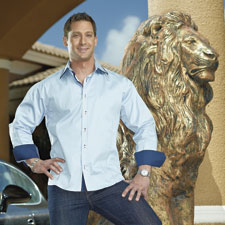 Adam Meyer stands in front of his home in Ft. Lauderdale, Florida. His success rate in the sports gambling arena comes from an uncommon intuition for probability and a facility for statistics.
Adam Meyer Shoots, Scores, Wins!
Raw data and refined instincts have made millions for this sports gambler
(continued from page 2)
As we're getting ready to leave, it is clear that the loss irks Meyer. Even as he recognizes the mathematics of winning 58 percent of his games (again, it means losing 42 percent of the time), losing is not the sort of thing that will ever sit well with him. "I used to be a lot more emotional than I am now," says Meyer. "But, still, when it comes down to the last seconds of a game, I'm pacing and sometimes throwing remotes. I put in a lot of work and always want to win."
En route to the game, Meyer gets an intriguing message from one of his sources. The Knicks' new small-forward Carmelo Anthony is not synching well with Amar'e Stoudemire, so they will not be spending much time together on the court during the first half of the game. Meyer is advised to make a first-half bet on the Heat. He mulls it over and thinks out loud: "It will be as if the Knicks have one star player instead of two." He calls a betting-agent in Las Vegas and has him get down $100,000 on the first half.
At the stadium, Meyer's seats are center-court, about 13 rows up from the action. Things start out perfectly for him, with the game going exactly as his source said it would. Anthony and Stoudemire spend no time together on the court. As the first quarter closes, the Heat are ahead by a comfortable margin. During the second quarter, they expand their lead to 12 points. Then things begin to go awry. Even without Anthony and Stoudemire playing together, the Knicks head off on a 15-point tear. In the midst of it, Meyer grumbles, "I need to go for a walk."
After the half ends and his bet is lost, Meyer comes back with a bag of chocolate covered almonds, Peter Kahn views it as a bad sign. Still, trying to make the best out of the situation, Meyer recognizes that the Knicks' outsized performance has generated a ton of scoring for the quarter, which inflates the over/under line for the last two quarters. Meyer has one of his agents book the under for the second half. It comes through a winner. But the only other consolation for the day is that Minnesota, the pick he gave to his Real Money Sports clients, covers the spread.
By the time we get back to Fort Lauderdale, he's dealing with the loss, acknowledging, "In this industry it happens. You can't win all your games. You can't get too high and you can't get too low. But it is devastating to lose the first half the way I did."
 
When the dust settles, he's still ahead by $3.1 million on the quarter and $300,000 on basketball alone. Plus there is a whole new slate of games to pick through and analyze. When I see him the next morning in his office, phones are ringing with customers—including a smattering of doctors and a couple of engineers—who are calling to thank Meyer for his weekend of picks as he strategizes for the coming day's games, which will result in a tidy profit of $388,000 for Adam Meyer.
Characteristically, he takes it in stride and keeps moving forward.
Michael Kaplan is a Cigar Aficionado contributing editor.
Comments
1 comment(s)
Adam Meyer — September 24, 2011 1:28am ET
---
You must be logged in to post a comment.
Log In If You're Already Registered At Cigar Aficionado Online