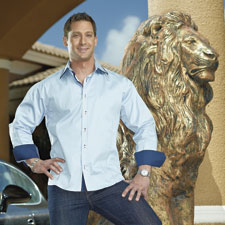 Adam Meyer stands in front of his home in Ft. Lauderdale, Florida. His success rate in the sports gambling arena comes from an uncommon intuition for probability and a facility for statistics.
Adam Meyer Shoots, Scores, Wins!
Raw data and refined instincts have made millions for this sports gambler
(continued from page 1)
Meyer's big pick tonight for the majority of his clients is Minnesota Timberwolves over the Golden State Warriors. He's drawn to Minnesota, at plus-3 points for a few reasons.
First, Golden State is traveling to Minnesota from the West coast and there is an early start time. Plus, Minnesota is coming off of a double-digit loss, and he thinks that will sharpen their play. Particularly, he expects Kevin Love "to be a rebounding machine," which will give Minnesota a huge advantage. "When it comes to sports gambling, I am not a gambler," says Meyer. "I used to be, and I was very unsuccessful."
Adam Meyer, 39, grew up in Fort Lauderdale. He found high school to be easy, excelled at sports and frequented the local jai alai fronton where he tried to handicap matches. He attended University of Miami with the intention of going on to law school. But, needing extra cash during his freshman year, he answered a newspaper ad placed by a company that was looking for someone who must love sports. The company turned out to be American Sports, which sold handicapping advice to sports bettors. Meyer was brought in to help with game analysis and he proved to be a natural.
 
By age 20, Meyer had dropped out of college and was making a ton of money by analyzing and betting sporting events. He left American to open his own company and figured he was invincible. "I was a kid telling business guys to only play my picks, manage their bankrolls and treat sports betting as a business," remembers Meyer. "And there I was, betting every game on the board. I thought I could beat everything and burned through millions and millions of dollars by the time I was 22. I went broke two or three times. I sold a multimillion-dollar house and moved into a $400,000 house. I sold my cars and my jewelry and cried myself to sleep. Then I realized that in order to be successful at this I need to be disciplined. I became a sharp guy who only does things when he has an edge. When I went broke, my parents begged me to go to law school. But I knew what I wanted to do."
Following that debacle, Meyer buckled down, worked hard, and played smart. "I studied math and the Pythagorean theorem and how it can all be applied to sports gambling," he says. "I took classes on probabilities and statistics and hired two Harvard graduates to build software that would allow me to analyze matchups."
Along the way, he's learned more than a few things about beating the NBA. "I concentrate on teams that aren't the top or bottom of the standings, but, rather, those that are in the middle," he says. "The 76ers, for example, are a 500 team, but they are 64 percent against the spread. Odds-makers know that most gamblers focus on the best and worst teams, so they spend so much of their time on those teams' games. But the middle teams are very competitive and capable of winning on any night. I like to find them in dog situations on the road."
He also uncovers value in cherry-picking good spots for the betting of overs on point totals (that is, betting that the total score, for both teams combined, will exceed a certain number). "I like to look at defensive field-goal percentages," says Meyer.  "Once I see that increasing, my bets increase against the team or else I start betting more heavily on the overs. The Cleveland Cavaliers, for example, after 10 games went by, I analyzed the team. I've been betting the over on them nearly everyday since, and my win rate there is more than 70 percent. Then, once the oddsmakers get sick of being on the wrong side of it, sometimes they'll change by over-adjusting in the other direction. That is the opportunity for me to change as well."
One component that any sports bettor can factor into the mix is the effect of travel on a team. While it's true that private jets make things a little easier than they might have been in the old days, Meyer has some interesting thoughts on the impact of road weariness. From the former NBA players on his payroll, Meyer has learned that at least one popular assumption is not as strong as believed: When teams have back-to-back games on the road, they do poorly. "The truth is that when teams have four games over the course of five nights, they do worse than when they are playing back-to-back," says Meyer. "That's a situation that I look for right away. Also, immediately after a long trip, when players have just gotten home, statistically, teams do not tend to cover the spread. You have to remember that professional athletes are only human, and they have things to catch up on after being away."
What he preaches to his clients (and practices himself) is stringent bankroll management. Meyer suggests betting no more than 5 percent of your current bankroll on a given game. Being overly aggressive with your money, even if you are killing it, is a recipe for disaster. After all, winning 58 percent of your wagers, over the course of an NBA season, is a good way to get rich, and it represents a record that any sports bettor would be thrilled to have. But it also means that you have to lose 42 percent of the games that you bet on, and there is no telling how the losers will batch up. "I don't believe in chasing," says Meyer. "You stick with a percentage of your bankroll that you are willing to put at risk." For example, he adds, "If you hit 60 percent winners, which is almost impossible to sustain, and you bet 30 percent of your bankroll, there will be a course of time in which you are negative. Go 0-and-5, while continually betting 30 percent of your bankroll and you will have the ability to wipe out your funds."
Because the Heat are playing the Knicks in Miami, and he has a big bet on the game, Meyer decides to watch this one in person. Peter Kahn, Meyer's lawyer Bruce Liebman and I meet at Meyer's massive home before taking off for American Airlines Arena.
 
Meyer meets me at the door with a long face. Instead of saying hello, he says, "We lost by one."
He's referring to the score of the Oklahoma City Thunder vs. Los Angeles Lakers game with a plus-two point spread factored in. Meyer had Oklahoma City. "It's really unfortunate because the Lakers didn't lead by more than two points until the very end of the game," he says. "This is the kind of day where I might wind up going 1 and 3, with my clients winning the Minnesota game. That one best game is never based on line value. It's based on all the elements."
Comments
1 comment(s)
Adam Meyer — September 24, 2011 1:28am ET
---
You must be logged in to post a comment.
Log In If You're Already Registered At Cigar Aficionado Online