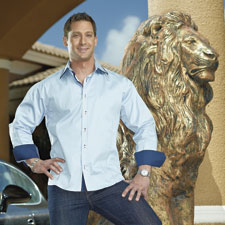 Adam Meyer stands in front of his home in Ft. Lauderdale, Florida. His success rate in the sports gambling arena comes from an uncommon intuition for probability and a facility for statistics.
Adam Meyer Shoots, Scores, Wins!
Raw data and refined instincts have made millions for this sports gambler
It is the final weekend of February and Adam Meyer is in the midst of his best quarter ever. Earlier this year he won almost $2.8 million on the Super Bowl. Now he is crushing the NBA. As I land in his home-base of Fort Lauderdale, Florida, Meyer is ahead by $900,000 on professional basketball wagers. He does it by handling sports betting with the same strategic approach that the best Wall Street investors apply to the stock market.
Meyer is loath to make a bet without having a strong rationale behind it and at least a little bit of an edge. He parses statistics, trends, personal insights and the kinds of advance information that could get a Wall Street trader in trouble (but is perfectly legal in sports betting).
For the NBA alone, Meyer maintains a crew of 10 former basketball pros with whom he consults. Moles in Vegas let him know when a whale is going to move a line, and his sources keep him abreast of developments in the personal and professional lives of players.
"Since December 30, I knew that Jerry Sloan [then the coach of the Utah Jazz, he resigned in February] and Deron Williams [then the point guard for the Jazz, he was traded to the New Jersey Nets in February] were having major issues," says Meyer. "I knew that the team temperature was gone, and I capitalized on that."
He even has somebody tracking the statistics of specific referees and how they tend to call games. "Statistically, there are certain players that refs happen to like—Allen Iverson was one of them—and they call fewer penalties on those players," says Meyer, pointing out that it's not conscious favoritism but more a matter of human predilection. "Some refs are meek about calling fouls on home-team players. Others want to show the crowds that they cannot be intimidated."
Meyer estimates that his payroll for sources and outside consultants runs him some $6 million per year. This would be a hefty sum for even the most successful sports bettors. Meyer can afford it because he runs a parallel business that operates in concert with his own sports betting. He is the CEO of Real Money Sports, Inc., a consulting company for gamblers. Clients pay anywhere from $199 per month to $250,000 annually for advice from Meyer. At the high end, he says, the expectation is that they will make $1 million based on the year's worth of picks and betting advice that he provides. During the NFL season, he says, his international subscribers account for an estimated $10 million in wagers per week. "I have a client who has been with me since 1998 and he is up $11 million over that period of time," says Meyer.
Besides generating an eight-figure income for Meyer, who himself bets between $250,000 and $500,000 on any given day, the consulting business allows him to spend heavily on getting the information that is integral to his win-rate of 58 percent per year for the last two years in the NBA. He's serious enough about the business that he recently purchased a chunk of a Fort Lauderdale office park in which to house the operation, and hired the former marketing and public relations director from Don King Productions, Peter Kahn, to handle that end of his business. Set for this summer is a free iPhone app that will provide statistical information for clients and non-clients alike. Additionally, he plans on holding a sports-betting seminar in Las Vegas this August. Clearly, Meyer is more than just a successful gambler.
Mike Colbert, who oversees sports betting for Cantor Gaming in Las Vegas, describes Meyer as "the real deal" and limits his NBA action to $100,000 per game. If he could bet more there, Meyer would—and if Meyer were not such a dangerous player, Colbert would allow it. When a conversation in Meyer's office turns to a small killing that he made in the last World Cup, Peter Kahn gestures toward a framed autographed jersey from David Beckham and says, "We don't know Beckham, but we got this from the guy who was giving us World Cup information!"
On the Saturday morning that I meet Meyer in his Fort Lauderdale office, he tells me that his stale-looking space (previously belonging to an attorney) is about to undergo some serious remodeling. By contrast, Meyer already looks every bit the edgy, young entrepreneur—from his fashionable clothes to his athletic physique. He keeps glancing at his computer monitor, arrayed with all the lines for today's games. It is as important to Meyer's business as a Bloomberg terminal is for a Wall Street trader.
 
Integral to Meyer's success is his ability to get into games at the right price. It is what leads him to bet on Miami Heat vs. New York Knicks tonight. "I don't love the Heat," acknowledges Meyer. "But the game opened with the Heat giving up 8 1/2 points, and I just knew that it would go to 10. You do that over time, and out of 100 games, six become winners instead of pushes." In other words, Meyer bets with enough volume that, eventually, his small line-edges add up and iron out variance. "If you are my bookmaker and tell me that you will give me an extra point on every game, but that I have to bet every game, I will happily do it and slowly bankrupt you."
Because most of Meyer's clients don't generate his kind of volume and do not have access to the same Las Vegas lines that he does (he often places his bets via registered agents who legally wager on his behalf in casinos), the bets he advises them to make are based on more than line value. A wide range of factors go into the games he gives out to his clients. Meyer figures the formula at 50 percent advance information ("People still don't know how injured Kobe Bryant is," he says a couple of weeks prior to Bryant suffering a rolled ankle against the Mavericks); 25 percent math and 25 percent gut-instinct and variables. "If a team comes off of a 20-point lead and blows a game, most people are afraid to bet the team the next night," says Meyer. "But in reality, the team will play extra hard the next night, and you get value by betting them. Oddsmakers take advantage of the public perception when they make their lines for those games." And so does Meyer.
Comments
1 comment(s)
Adam Meyer — September 24, 2011 1:28am ET
---
You must be logged in to post a comment.
Log In If You're Already Registered At Cigar Aficionado Online