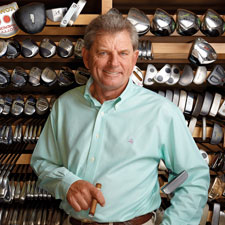 Gentleman Nick
Nick Price is a three-time major champion and a World Golf Hall of Fame member but he also will be remembered as a nice guy
(continued from page 3)
"The big difference is all the guys out here [on the Champions Tour] have been there and done that in their careers," says Price. "There aren't the egos out here that there were when you first came out [on the PGA Tour]. Everyone knows everyone so well. It's more about entertaining. It's still about competitiveness."
As Trevino says, "You can't find a person out there that could say a bad word about Nicky. I've never heard one, ever."
Putting the question to Price's colleagues at the Charles Schwab Championship last fall—say something bad about Nick Price—elicited these responses.
From Jeff Sluman: "He's a horrible wine drinker. We rented a condo together with Jay Haas last year for a tournament and I brought along a lot of really unbelievable wine and he says, 'Where's the beer?' "
From Mark Calcavecchia: "He didn't get me into his golf club [McArthur] in Florida. I thought I would be in like Flynn with a guy like that. Other than that, I love the guy."
From Tom Watson: "He's not a wine drinker and he tells really corny jokes."
From Loren Roberts: "We were at that Kapalua tournament at the end of the year and the players and their wives were out on a whale watching cruise. Everyone had a couple of beers. Nick dove in the water. He popped up and mooned us. Now that was pretty funny."
From Tom Kite: "He smokes, man, he smokes."
Price is a smoker, but mostly cigarettes. He says he smokes three or four cigars a year when friends give him one. And, he says that when he plays in the Dominican Republic, he always brings some cigars back to his buddies. However, he says he doesn't smoke enough cigars to have a favorite, or even any way to talk about specific cigars.
Price, 54, has won three times on the Champions Tour through the early part of the 2011 season. He wasn't happy with the way he began his new career, but his swing consistency has improved and he feels better over the putter. When he's not fishing, he's working hard on his game, particularly now that his three teenage children, Gregory, Robyn and Kimberly, have their own active lives.
"It's truly amazing to be a parent and it's the highlight of my life, but it's now 'Hi, Dad,' and they are gone off to do things, so I have had more time to work on my game."
You must be logged in to post a comment.
Log In If You're Already Registered At Cigar Aficionado Online