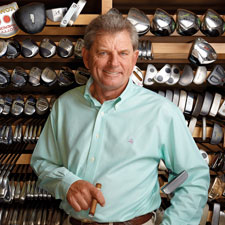 Gentleman Nick
Nick Price is a three-time major champion and a World Golf Hall of Fame member but he also will be remembered as a nice guy
(continued from page 2)
"At the end of 1990 my caddy told me he wouldn't be doing it anymore, he was going home. So we looked around for a caddy and I decided to call Squeaky because he had caddied for some big players like Fred Couples and John Mahaffey," says Price. "Squeaky told me that Tom Watson had just asked him to caddy for him. So I say I'd love to have you, but totally understand if you go with Tom. A week later he says he's decided to caddy for me."
It wasn't the Humphrey Bogart-to-Claude Raines "Louie, this could be the start of a beautiful friendship" moment, but it would become a beautiful friendship and a highly successful partnership.
 
"So I start with Squeaky in 1991 and in May we win the Byron Nelson," says Price. "We were getting along really well. He was a very positive guy with a great sense of humor. We won again at the Canadian Open. Things were going great and it really felt like we were a team. In '92 I played well, really well, and won the PGA Championship and won a few more tournaments in the U.S. and around the world. In 1993 I won the TPC in March. We were really on roll. No one was having more fun out there than us, and particularly Squeaky.  Ninety-four comes along and I'm playing at a level I could only have dreamed of. I win the British Open and the PGA again. I'm No. 1 in the world. I have to think that Squeaky was a major component in that. And he was such a great friend. I had someone to share it with. It was really a wonderful time, riding on a cloud."
The 1994 season was the pinnacle of Price's career. He played well in 1995 but didn't win in the U.S. Then during the spring and early summer of 1996 he was plagued with a sinus infection that he couldn't shake, and he didn't play very much. He withdrew from a tournament the first week of June, skipped the U.S. Open and didn't schedule himself to play again until the first week of July, at the Western Open in Chicago.
"I met Squeaky at the Western Open and he said that he had just had a physical and his doctor thought that he might have leukemia, but he was waiting for the test results to come back. It was like a kick in the stomach, man. I said you have to be kidding," says Price. "That Saturday morning when I showed up at the clubhouse, there was Squeak with my bag and I knew by the look on his face that it was bad. He said he had leukemia. I said 'We're going to kick this thing dead.' "
Price called upon all his resources, his medical contacts. Medlin began treatment and Price began a new phase of his career without Squeak on the bag. At the Hilton Head tournament in April of 1997, Price led wire-to-wire to win. "When Squeak was about to have a bone marrow transplant, I won the tournament at Hilton Head and as I was walking up the 18th, I remember having a green ribbon on my visor as lots of guys were doing. I said into the camera, 'We are all pulling for you for you Squeak.' "
Medlin had the transplant and Price went to see him in May. "Squeak was always such a positive person and he seemed in good spirits but he didn't look good. He was clearly sick," says Price.
On the Sunday morning of the 1997 U.S. Open at Congressional, Price got a sobering call from Medlin's wife. "She said that she was taking him out of the hospital, that there was nothing else they could do for him," says Price. "He had developed an infection in his lungs."
The next day Price flew to Columbus, Ohio, to visit with the Medlins.  Medlin looked horrible, looked green, looked terminal.
With a heavy heart, he flew home to Palm Beach. When he got back there was a voicemail message from Medlin's wife. Squeaky had died.
 
"I just cried my eyes out," says Price. "Maybe it's selfish to think this way, but we had shared so many great times, had done so many great things together, that it left a big hole in my life. I still miss him terribly. One of the reasons that I didn't play so well afterward is that we worked so well together as a team. He knew my swing inside and out, knew me as a person. That's no disrespect to the caddies who worked for me, but it was almost impossible to have that relationship again."
Price didn't go away, though he never again played at the highest level. He would win a PGA Tour event in 1998, and his last one in 2002. Still he remains proud that he was still a strong player into his mid 40s, battling players of the Tiger Era.
"It was hard to come down from the top," says Price. "We all know it is not going to be like that forever. What I was really happy about was that I continued to play well even though I didn't play at that same level. Even in 2002 when I won a tournament, in 2003 and 2004 when I was 46 and 47, I was still competitive. I was still in the top 30 in the world ranking. I was very happy that I played so well, then my game went off in 2005. When you take into consideration all the changes that were going on, the golf courses getting longer and the equipment changes, that was a really good effort, I think. I was really proud of that."
Of course by the time he became eligible for the Champions Tour at age 50 in 2007, he had gathered a whole bunch of friends along the way, and a whole bunch of respect. Playing with, and against, Nick Price was always a pleasure, and for Price playing with his old cronies was like a homecoming.
You must be logged in to post a comment.
Log In If You're Already Registered At Cigar Aficionado Online