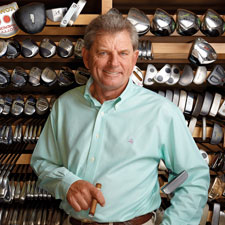 Gentleman Nick
Nick Price is a three-time major champion and a World Golf Hall of Fame member but he also will be remembered as a nice guy
(continued from page 1)
Character, of course, has many components. Price didn't make it to the top of the game without being a dedicated and steely competitor. Part of his character was defined by a mandatory stint in the Rhodesian military after graduation from high school, during a time of revolution when the country was on its way to becoming Zimbabwe. He was a radio operator, then involved with ciphers, signaling. And while on duty, he was shot at by insurgents. "I was shot at a few times," he says. "I never personally returned fire."
After military service, there was a golf career to pursue, and he did it with great verve. At the start of each season, he would begin with the same mantra: "Persistence, persistence, persistence."
Success in Africa, Asia and Europe finally brought him to the PGA Tour in 1982, where he not only found a place to play at the highest level of the game, he also found his home. He lived in Orlando to begin with, near his coach David Leadbetter, then relocated with his wife Sue to Jupiter Island, Florida, when their children were about to start school.
"I guess you could say that the most significant steps in my career were qualifying for the British Open as an amateur in 1975, winning my first European Tour event in 1980 and coming to the U.S. and qualifying for the tour by going through the tour school in the fall of 1982," says Price.
 
After an up-and-down start to his rookie season on the PGA Tour in 1983, Price made a deep impression by winning the World Series of Golf, holding off Jack Nicklaus in the final round.
 
"Look at the players I beat down the stretch," says Price. "I was a pigeon among the cats. I was cannon fodder, but I managed to win. Nicklaus, Floyd, Irwin, Aoki, the giants of the game. Nicklaus walked up to me on the green after I won and congratulated me. It meant an awful lot to me."
That victory looked to be the touchstone of an outstanding career, yet Price wouldn't again win on the U.S. Tour until 1991. He won tournaments worldwide and finished highly in several PGA Tour events, but he couldn't get over the winning hump in the U.S. Not that there weren't some real thrills along the way. He shot 63 in the 1986 Masters, lipping out a putt on the 18th for 62. "It was as if Bobby Jones said, 'Okay, that's enough,' " says Price.
For several seasons, it just didn't seem he had enough.
"I went through a period where I was playing well and just couldn't win," says Price. "I was winning overseas and on smaller tours but over here I couldn't win. I finished third, second, fourth, second, in the '80s. In 1988 I went to see [sports psychologist] Bob Rotella. From a mental standpoint, he turned me around. He simplified my thinking on the golf course. I was thinking about too many things. He got me focused. I built on that over the next two years. In 1991, I won my first event after all those years at the Byron Nelson. I didn't hit the ball all that well that weekend, but my game was so solid, I said to myself you don't have to play perfect golf to win, I just had to manage my game correctly. That was really the key to me starting to play really well."
Boy, did he ever. From 1991 through 1994 he won 12 PGA Tour events, including the Players Championship and his three majors. He was a force every week he played, and when he was on his game, he was unstoppable.
"Having been a journeyman pretty much up until 1991, having won maybe seven tournaments worldwide in 12 years as a pro, all of a sudden the floodgates opened," says Price. "It was so much fun. If you have that happen to you when you are young and you haven't put all those years of hard work in, it's probably not as much appreciated as when you have done all that. That's probably why I was so appreciative of it. I loved it. Playing against the greatest players in the world on some of the greatest golf courses in the best championships, PGA, U.S. Open, British Open and Masters, and having a chance to win."
At his side, as his caddy, friend and chief supporter, was Jeff "Squeaky" Medlin. With "Squeak" he shared the best of times—and the worst.
You must be logged in to post a comment.
Log In If You're Already Registered At Cigar Aficionado Online