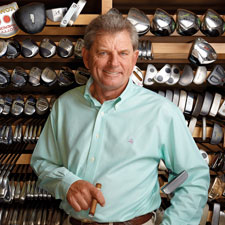 Gentleman Nick
Nick Price is a three-time major champion and a World Golf Hall of Fame member but he also will be remembered as a nice guy
In a barren porta-cabin not far from the 18th green at Royal Birkdale, Nick Price sat on a cheap folding chair as a group of somber journalists arrived, intending to gingerly ask him how it was that one of the world's best players had just shot an 82 in the third round of the 1998 British Open.
Golf being the psychologically delicate game that it is, and the game's journalists traditionally being loath to trod too heavily on a player's misfortune, there was little to suggest any sense of joy in the dim surroundings. For a few seconds, it was positively funereal.
Then Price, as he had always done—and always does—burst into his wide, toothy, crocodilian grin, appalled that anyone should be overly concerned that he shot a bad score in a golf tournament, no matter that he had been in contention after the first two rounds and now his chances had been blown away.
"What are you guys frowning about?" exclaimed Price, shaking the ink-stained wretches from their mournful postures. "You didn't shoot 82." Laughter ensued, as it always does when you spend any time around Nick Price, one of the world's most respected players, and indeed, its most respected person.
"You know what?" says Lee Trevino, one of the all-time greats, when asked about Nick Price, the man. "You finally asked a question that everyone in the game will give you an honest answer to. I don't know anyone who has more respect for the game, more respect for people, more respect for the country than Nick Price. Of all the players I know, and I know a hell of a lot of them, I don't know a nicer individual."
Price's legacy can easily be defined by his extraordinary play in the early and mid '90s, by his ascendancy to No. 1 in the world, clawing his way over players such as Greg Norman, Nick Faldo, Bernhard Langer, Fred Couples and Ernie Els. It can be defined by his three major championships (the 1992 and 1994 PGA Championships, and the 1994 British Open Championship). It can be defined by his 48 victories worldwide. It can be defined by his Hall of Fame induction in 2003.
But as significant as any accolades he's ever received are those given to him for the person he is. Those would be the 2002 Payne Stewart Award, given by the PGA Tour to a player who shows respect for the traditions of the game; the 2005 Bob Jones Award, given by the United States Golf Association in recognition of distinguished sportsmanship; the 2011 Old Tom Morris Award, given by the Golf Course Superintendents Association of America to a player "who through a continuing lifetime commitment to the game of golf has helped to mold the welfare of the game in a manner and style exemplified by Old Tom Morris."
"It's just always been my nature to be respectful of people and of the game I play," says Price. "I was brought up that way and there was never anything that would have caused me to change my personality in any way. Golf can be a maddening game, but you don't have to be mad about it."
At age 54, Price is now a Champions Tour player (though he intends to stick his foot back in the water of the PGA Tour at a few events in 2011). Born in South Africa to English parents, raised in Rhodesia (now Zimbabwe), and having risen through the ranks of the game through Africa, Europe, Asia and the United States, Price's journey has been long, eventful, thrilling, rewarding and joyful. Along the way, he has earned the respect of everyone he has touched.
"With Pricey, what you see is what you get," says Ernie Els, the South African who is 13 years Price's junior. He looked up to Price as much as he did the iconic Gary Player for inspiration. "He is a straight up, honest human being. He was very much my mentor when I started playing in the United States. He gave me a lot of advice. He didn't have to do it, not to a fellow competitor. But it tells me about his character."
You must be logged in to post a comment.
Log In If You're Already Registered At Cigar Aficionado Online