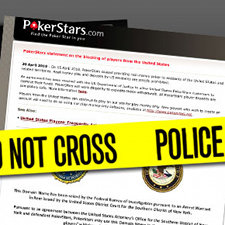 Screenshots/FullTiltPoker.com, PokerStars.com
A screenshot of the PokerStars.com homepage, which was seized by the Department of Justice last Friday.
Justice Department Takes Down Online Poker Sites
(continued from page 1)
Then maybe I'll consider putting some money into a small site and resuming play elsewhere—though I will miss those great 90-mans on Full Tilt.
While most of us might be losing a form of recreation that is (or is not) slightly profitable, a select number of truly gifted poker players are actually losing their livelihoods. On Friday night, after getting locked out of Full Tilt, I Skyped my friend Nick Rainey, the online pro who actually taught me how to beat the 90-mans.
He Skyped me back some words on the inevitability of this happening, his habit of keeping as little cash as possible online, and impending plans to hit the Hard Rock in Hollywood, Florida, for live poker and a shot at the upcoming World Poker Tour tournament that is due to take place there.
That said, with so much of the WPT's TV sponsorship now dried up, Rainey is smart to buy in while he still can.
Comments
3 comment(s)
Mike Klink — Salisbury, PA, USA, — April 21, 2011 8:43pm ET
---
James C — April 22, 2011 10:04am ET
---
Mike A Cardinal — April 22, 2011 11:06am ET
---
You must be logged in to post a comment.
Log In If You're Already Registered At Cigar Aficionado Online