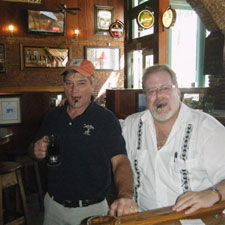 Fred Remington, left, co-owner of O'Toole's Pub, with writer Alejandro Benes.
O'Toole's Pub, Honolulu, Hawaii
(continued from page 1)
He then goes on to add what he considers to be the important information. In the case of O'Toole's the important information is that you not only can smoke cigars there, but you can also buy them. The cigar menu, created by a cigar supplier who shall remain nameless, is scant, but does have a serious number of misspellings and some good sticks.
A "Pardon [sic] 3000" goes for $8.00.  A "Cuesto [sic]-Rey Tuscany will cost you $10.00 and a La Gloria Wavell will set you back $6.50. Not bad at all, really.
One could say that O'Toole's is discrete, but that's not the case, even though you can come in fairly inconspicuously using the back door. Everybody seems to know the deal here, though not everybody digs the smoking scene.
Everybody does seem to dig the nightly live music, which consists of pretty much everything from blues to Celtic to rock to Mike Love. (That would be the reggae artist, not the former Beach Boy.) Love plays most Mondays and Thursdays and is well worth a visit.
Of course, O'Toole's has the obligatory Guinness, Harp and Newcastle, but also a full bar and a beer garden in the back. Happy hour goes until 8:00 p.m.
O'Toole's is a great find and a great place to have a cigar until about 2:00 a.m. in a state where the authorities seem to hate the idea of you having a cigar.
Mahalo, brah!
Alejandro Benes lives and writes, mostly, in Southern California.
O'Toole's Pub
902 Nuuanu Ave.
Honolulu, HI 96813
Phone: (808) 947-3414
Kelley O'Neil's
311 Lewers St.
Honolulu (Waikiki), HI 96815
Phone: (808) 926-1777
Comments
1 comment(s)
Phil Clarkin — April 19, 2011 8:48am ET
---
You must be logged in to post a comment.
Log In If You're Already Registered At Cigar Aficionado Online