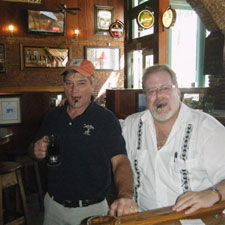 Fred Remington, left, co-owner of O'Toole's Pub, with writer Alejandro Benes.
O'Toole's Pub, Honolulu, Hawaii
Here's about all I really know in Hawaiian Pidgin English: ono grinds. It means delicious food. I don't know or much care about the derivation of the term, but there's plenty of ono grinds in Honolulu and environs. Just one thing, get your grind on (or something like that) before you go smoke a cigar at O'Toole's because this Irish pub does not serve food. And you won't care.
The most important thing to know about O'Toole's is that you can smoke a cigar there even though you're not legally allowed to do so under Hawaii's strict antismoking law passed in 2006.
"It's not up to the owner or the manager to enforce the law," explained Fred Remington, co-owner of O'Toole's, in an accent that tells you he's not a native. "It's up to the six-person Department of Health."
Remington said that in the four-plus years of the antismoking law's existence, only one person has been cited, "and that was a little, old lady smoking a cigarette in a public place."
Hawaii's antismoking activists confirmed that enforcement was lax at best, though they could not specify how many citations had been handed out.  Health department officials did not return calls.
Remington, who moved to Hawaii from Rhode Island in 1999, said, "We allow you to smoke, and we're fighting the law every legislative session." He said that law enforcement officials have better things to do than to go after smokers. "Cops come here to smoke," he said.
Remington also owns Kelly O'Neil's and The Irish Rose in Waikiki where—dramatic pause—YOU CAN ALSO SMOKE!
Kelly O' Neil's actually serves food, but, again, who cares? It's an Irish pub, not Alan Wong's. O'Toole's could be in New England or any Irish neighborhood on the mainland, but it is on the edge of Honolulu's Chinatown, near the docks for cruise ships, on what's known as the "Irish Corner." (There's a Murphy's across the street.)
The bar is decorated with seven televisions, always with sports on. The décor is early, and late, Fenway Park/Boston Red Sox memorabilia. A lot of it. Every Red Sox game is shown during the season.
As a friend of mine who is a Yankees fan likes to say, as he dismisses what he considers to be an annoying truth that is ultimately tolerable or beside the point, "Be that as it may."
Comments
1 comment(s)
Phil Clarkin — April 19, 2011 8:48am ET
---
You must be logged in to post a comment.
Log In If You're Already Registered At Cigar Aficionado Online