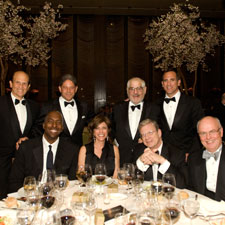 Photos by Jonathan Lockwood Smith
Seated at the head table was,standing left to right, Michael Milken, Bill Terlato, Marvin R. Shanken, Jorge Padrón, and seated, Gordon Mott, Jeff Greenfield, Hazel Shanken and John Salley.
Another Fabulous Night to Remember
(continued from page 1)
While the auction took a break for dining, the crowd was treated to humorous banter from former NBA star John Salley, a regular at Night to Remember events. Television journalist and author Jeff Greenfield also took the stage to praise the joys of a good cigar and the serenity it offers. "You really can't 'tweet' when you're a smoking cigar," he said, referring to Twitter, the popular social networking website. "It's a nice simple pleasure."
The bidding renewed with a bottle of Gold Bowmore single-malt Scotch, a 44-year-old whisky that has achieved cult status. Liautaud also bought that lot for $8,000. A total of 564 of the highly sought-after Fuente Fuente OpusX cigars, including the OpusX Double Corona, Cigar Aficionado's 2005 Cigar of the Year, filled out the next lot, which was won by Patel for $24,000.
Marvin R. Shanken presents Jamie Coulter with his bottle of 1929 Château Haut-Brion.
Keeping with the cigar theme, the next lot included 700 La Flor Dominicana cigars, composed of seven editions that made
Cigar Aficionado
's Top 25 list, including Nos. 2, 3 and 4 cigars.
Lee Einsidler, of Sidney Frank Importing, got that one for $14,000.  Padrón donated 600 cigars made up of three different Cigars of the Year as well as smokes to be custom-made at the winner's behest. Coulter won the right to design those cigars for $25,000.
Sports analyst Ron Jaworksi with cigarmaker Rocky Patel.
A trip to Scotland as the guest of Glenmorangie was the centerpiece of the next lot, which included a distillery tour, golf and a liter of the just released Glenmorangie Pride 1981, a 28-year-old whisky finished in Château d'Yquem casks. Keith Frankel, of Vitaquest International, bought it for $38,000.

The final lot was Marvin's Mystery Box, another tradition of the event. This year if included a humidor custom-made for Marvin by Elie Bleu founder Alain Berda of Paris in 1995. Coulter again led the bidding and took the prize for $160,000.
As dinner concluded, waiters passed out the dinner cigars, contained in bags supplied by Humidipak. The trio consisted of the Benji Menendez Master Series Partagas Majestuoso, a Fuente Fuente OpusX No. 77 Shark, and a Padrón Family Reserve No. 45 maduro.
Dan Carr, seated center, dined with, standing from left to right, Benji Menendez, Sherwin Seltzer, Randy Silverman, Mauricio Cordoba, Gene Richter, Keith Sparacio, Michael Giannini, and, seated right to left, Greg Fox, Carr, and Victoria McKee.
Many of the diners made up a virtual Who's Who of the cigar industry, including Peter Baenninger of Davidoff, Dan Carr, Benji Menendez, Michael Giannini and Sherwin Seltzer of General Cigar Co., Fernando Dominguez, Javier Estades, Jim Colucci and Janelle Rosenfeld of Altadis, Christian Eiroa of Camacho, Cythnia Fuente of Arturo Fuente, Janny Garcia of My Father Cigars, Ines and Litto Gomez of La Flor Dominicana, Eric Hanson of Hammer + Sickle, Sathya Levin and Manny Ferraro of Ashton, Les Mann of Colibri, Eric Newman of J.C. Newman, Ernesto Perez-Carrillo III from E.P.C. Cigar Co., Jorge Padrón of Padrón, Bill Paley of La Palina, Alan Rubin and Ralph Montero of Alec Bradley, Stan Shuster of the Grand Havana Room, and Alejandro Turrent of Te-Amo cigars.
Comments
1 comment(s)
Will Kamerman — April 11, 2011 4:44pm ET
---
You must be logged in to post a comment.
Log In If You're Already Registered At Cigar Aficionado Online