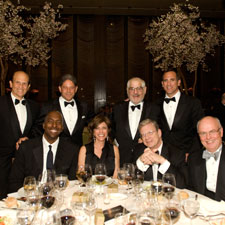 Photos by Jonathan Lockwood Smith
Seated at the head table was,standing left to right, Michael Milken, Bill Terlato, Marvin R. Shanken, Jorge Padrón, and seated, Gordon Mott, Jeff Greenfield, Hazel Shanken and John Salley.
Another Fabulous Night to Remember
Back by popular demand, Cigar Aficionado's 17th Night to Remember resumed its fund-raising efforts for a prostate cancer cure, collecting a record $1.8 million. The event, which had skipped the past two years, did not miss a beat in its traditional glamour, elegant drinking and dining and profusion of fine premium cigars at the renowned Four Seasons restaurant in New York City.
The festivities included an auction dinner with bidding for 12 luxury lots and a briefing by Michael Milken, founder and Chairman of the Prostate Cancer Foundation, on the many advances made in 2010, in part because of money donated at past Nights to Remember. He called it the most productive year ever in the fight against the disease.
Alejandro Turrent, left, and his wife, Emma, with Javier Estades and Fernando Dominguez of Altadis.
The Night to Remember, hosted by
Cigar Aficionado
editor and publisher Marvin R. Shanken, started with a cocktail party in the Four Season's Grill Room, where guests were treated to a selection of donated cigars, including A. Turrent, Alec Bradley, Arturo Fuente, Ashton, Brick House, Camacho, Davidoff, Diamond Crown, E.P. Carrillo, Hammer + Sickle, Hoyo de Monterrey, La Aroma de Cuba, La Flor Dominicana, Romeo y Julieta, Rocky Patel, Macanudo, San Lotano, Tatuaje and My Father Cigars. Moët & Chandon Brut Champagne Impérial NV was served as the featured wine of the pre-dinner party.
Cigarmakers Ernesto Perez-Carrillo, left, with Alan Rubin, center, and Ralph Montero of Alec Bradley Cigar Company.
Shanken called the event to order in the modernist Pool Room and the fundraising began in earnest. The first order of business was to hold up a sign announcing that this was one of the few events in New York City at which smoking would be allowed. To emphasize the point, diners were presented a pack of cigars that included Benji Menendez Partagas Master Series Majestuoso, Fuente Fuente OpusX No. 77 Shark and a Padrón Family Reserve No. 45 maduro,
Cigar Aficionado
's 2009 Cigar of the Year, and also a black and gold Colibri cutter, emblazoned with the words "2011 Night to Remember."

Even before the auctioning of the 12 lots began, the dinner kicked off to a momentous start when Pierluigi Tolaini, who owns a Canadian trucking company, donated a check for $1 million to the delight of Shanken and Milken. Tolaini is a former sufferer of the disease who is now cancer-free.
Pierluigi Tolaini presents a $1 million donation to Michael Milken of the Prostate Cancer Foundation.
Four extraordinary wines were auctioned off before the dinner. Jamie Coulter, former head of the Lone Star restaurants group, took the first bottle, a 1929 Château Haut-Brion, for $15,000. The second, a 1959 Château Haut-Brion, went to Pete Johnson of Tatujae Cigars for $18,000. Milken himself scored a magnum of 1989 Lafite Rothschild for $18,000. The final wine, a 1961 Lafite Rothschild was won by Robert Levin, creator of the Ashton brands and president of Ashton Distributors Inc., for $22,000.

Dinner was then served. The menu comprised Four Season's seafood Risotto paired with M. Chapoutier Hermitage White Chante-Alouette 2006, double sirloin of beef with 2005 Caymus Cabernet Sauvignon Napa Valley Special Selection and chocolate ganache with Graham 1977 Vintage Port.
Robert Levin, standing third from left, with, from left to right, Manny Ferraro, Sathya Levin, Janny Garcia, Pete Johnson, Tim Swail, Sean Knutsen and, seated from right to left, Cynthia Fuente, Ken and Julie Neumann.
When the main auction began, a five-day vacation at the Palm Beach Breakers with golf and Ashton cigars was snapped up by Levin himself for $16,000.  The second lot, a trip to Honduras for a personal tour of Rocky Patel's cigarmaking factory, with 100 cigars included, also went for $16,000, this time to Coulter. A classic wine collection from Zachy's wine store, of Scarsdale, New York, included 12 wines rated between 95 and 100 points (four of them scoring perfectly) in
Wine Spectator
. Michael Gelband, of Millenium Management, took them home for $40,000.

Perez-Carrillo donated a special humidor filled with 300 limited-edition smokes that were bought by Jimmy John Liautaud, founder of Jimmy John's Gourmet Sandwiches, for $18,000. Liautaud also took the next lot, a bottle of 40-year-old Glenfiddich single-malt Scotch, for $8,000.
The next prize, an evening of food and drink, with 340 cigars, at New York's Club Macanudo, donated by General Cigar Co., proved so popular that two lots were created on the spot at the request of auctioneer Shanken. The private receptions went to attorney Doug Wood and Coulter for $50,000 each.
Comments
1 comment(s)
Will Kamerman — April 11, 2011 4:44pm ET
---
You must be logged in to post a comment.
Log In If You're Already Registered At Cigar Aficionado Online