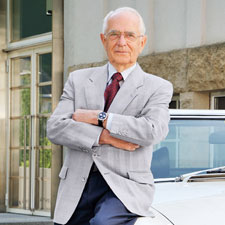 Photos/Berthold Steinhilber
Walter Lange at the A. Lange & Söhne factory in Glashütte.
The Watchmakers Who Saved Glashütte
Ferdinand Adolph Lange established a horological industry in a poor German town in 1845, and his great-grandson Walter resuscitated it a century and a half later
(continued from page 3)
Their most difficult obstacle in rebuilding the company was obtaining a factory location. A. Lange & Söhne has been headquartered in what was known as its historic family domain, located at the city's most prominent crossroads, a stone's throw from the German School of Watchmaking.
It would seem that Walter Lange's childhood home should by rights be given back to him, but a loophole in the German law governing the GDR's assets precluded this. (It wasn't until 2000 that Lange was able to regain ownership of the property. "We ended up having to buy the historic family domain back from the government," he says. "That still hurts today when I think about it.")
Literally having to start over from scratch, Lange registered the new company, Lange Uhren GmbH, on December 7, 1990—the anniversary of the original founding in 1845—using the address of a private residence belonging to an old school chum. Lange Uhren GmbH was a joint venture between Walter Lange and the watch group known as LMH, which was managed by Blümlein and included iconic Swiss watch brands Jaeger-LeCoultre and IWC.
Lange and Blümlein needed to find people to work in the factory, so they hung signs in the gargantuan GUB building located next door to A. Lange & Söhne's historic family domain. The behemoth conglomerate was undergoing fundamental changes as a result of German reunification, including a huge reduction in the workforce from 2,000 to 70 between 1990 and 1993, and the rundown watch factory would eventually be sold.
Lange and Blümlein's attempts to recruit GUB employees were initially met with resistance. The professional home of two generations of Glashütte watchmakers, GUB's workers generally viewed Western entrepreneurship as an enemy of the working class, and it took time to get over their mistrust.
Eventually, applications began to come in—some from watchmakers whose grandfathers and other relatives had worked for A. Lange & Söhne. The process was facilitated by the hiring of Hartmut Knothe, who as director of the GUB's educational center had known many of the watchmakers. Once a small workforce had been assembled, Blümlein and Lange had to figure out a way to retrain them, as much of the knowledge of high-end watchmaking had been lost over the past two generations. The company's new watchmakers were sent to IWC in Switzerland to learn the modern watchmaking technology necessary to create haute horlogerie.
Today, some 500 specialists spread among five factory buildings use both traditional and modern technology to make only a few thousand watches each year, all of which are fully assembled and regulated by hand. A. Lange & Söhne has not only regained world fame as one of the very best watch brands in the world, but its rebirth has revived a struggling region and resuscitated its very special craft.
 
Elizabeth Doerr, author of Twelve Faces of Time, is a freelance watch writer based in Germany.
The Making of a Masterpiece
Owning a watch by A. Lange & Söhne is far more than just owning what may well be considered a piece of German history. Experts agree that this company's products may be counted among the highest quality the world of watchmaking has to offer.
"When we started Lange up again, we asked ourselves, How would Ferdinand Adolph Lange have made his watches today? He certainly would have gone with the times in terms of technology," says Walter Lange, the great-grandson of the founder, in explaining the company's basic premise. What many people don't know is that a watch movement made by A. Lange & Söhne is actually assembled twice—a practice that occurs nowhere else in the business of serially manufactured wristwatches.
You must be logged in to post a comment.
Log In If You're Already Registered At Cigar Aficionado Online