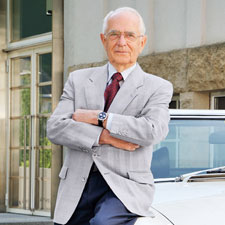 Photos/Berthold Steinhilber
Walter Lange at the A. Lange & Söhne factory in Glashütte.
The Watchmakers Who Saved Glashütte
Ferdinand Adolph Lange established a horological industry in a poor German town in 1845, and his great-grandson Walter resuscitated it a century and a half later
(continued from page 2)
On November 15, 1948, Lange was condemned to work in the uranium mines, which meant almost certain death, if he did not agree to join the Freier Deutscher Gewerkschaftsbund, a long arm of the Communist Party. This left Lange no choice but to flee to what was now West Germany. His family's company had already been expropriated; it continued to manufacture watches under the name Lange VEB Glashütte from 1949 until 1951.
A. Lange & Söhne wasn't the only Glashütte watchmaker to be nationalized: in 1951, all of the town's seven horological companies were expropriated and combined to form one conglomerate in charge of watchmaking and microelectronics for East Germany.
This "people's company"—which by the 1980s would employ about 2,000 people—was known as VEB Glashütter Uhrenbetriebe, or GUB for short. Although mechanical watchmaking in its simplest form would continue, the next few decades would bring seemingly irreparable changes to the art form that Glashütte had once been world-famous for, including a transition to mass quartz watchmaking in later years.
Having relocated to the West, Lange resumed his watchmaking career by going to work in the Bavarian community of Memmelsdorf for Ernst Kurtz, another Glashütte native who had flown to the West, and who would later be recognized as the founder of Tutima.
By 1950, Lange had resettled in Germany's other center of watchmaking, Pforzheim, where he briefly worked in various capacities for PUW, a movement maker. He soon started a watch assembly company as well as a wholesale business representing Swiss brands. But he could never forget where he had come from and that A. Lange & Söhne was innately connected to the place of its birth and the spirit of its people.
By the late 1980s, Mikhail Gorbachev was promising an end to the Cold War and the Iron Curtain. His glasnost ideas were to have far-reaching effects, and the inherent cracks in the GDR's politics and economics eventually led to the tearing down of the Berlin Wall. The German people were reunited; East and West were no longer divided.
Western-style marketability and economics would soon return to Glashütte. So, too, would Walter Lange, who had a burning desire to reinstate his family's rich legacy there and to resurrect the town's grand watchmaking tradition.
"This was a pioneering time," recalls Lange. "It was such a wonderful time, despite all the difficulties that came along with it. This wasn't just about refounding a company, it was about rebuilding Glashütte. My partner in this venture, Günter Blümlein, would often feel he needed to say this to me: 'Mr. Lange, you are more for Glashütte than Lange.' For him, it was about the company; for me, it was both. And I take great joy in the fact that today [some one thousand] people earn their livings with watchmaking in the small city."
As Lange and Blümlein went about reestablishing the A. Lange & Söhne brand, watchmaking's mechanical renaissance was just hitting full stride in the rest of the world. This period had followed the so-called quartz crisis, a decade and a half during which inexpensive Japanese quartz watches almost entirely wiped out the mechanical watch industry in Switzerland and Germany. In Germany, the mechanical renaissance was undoubtedly accompanied by a revival of Glashütte-style watchmaking, thanks to Lange and Blümlein.
The partners faced seemingly insurmountable hurdles in achieving that return to high-quality horology. Not only did they have to wrestle with the mistrust of Glashütte's inhabitants, whose upbringing had been starkly different than Westerners', but they also had to contend with various business challenges, such as poor telephone service, a shortage of hotels and restaurants in the area and the dearth of qualified personnel.
You must be logged in to post a comment.
Log In If You're Already Registered At Cigar Aficionado Online