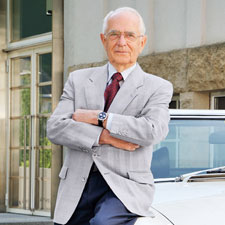 Photos/Berthold Steinhilber
Walter Lange at the A. Lange & Söhne factory in Glashütte.
The Watchmakers Who Saved Glashütte
Ferdinand Adolph Lange established a horological industry in a poor German town in 1845, and his great-grandson Walter resuscitated it a century and a half later
Nestled among the natural beauty of the Erzgebirge mountains, the small eastern German town of Glashütte had once been known for its world-famous watch industry and the timepieces of legendary watchmaker A. Lange & Söhne. Founded in 1845 by Ferdinand Adolph Lange, the company flourished for most of the next century, but a series of upheavals beginning in the early twentieth century would eventually lead to the demise of the esteemed watchmaker. A. Lange & Söhne managed to survive the advent of the wristwatch and the Great Depression, but National Socialism, the Second World War and expropriation by East Germany finished it off.
The town's reputation for haute horlogerie might have been permanently tarnished, but after German reunification in 1989, the founder's great-grandson Walter Lange was able to rekindle the tradition. Thanks to his inimitable spirit, Lange found a way to bring the art of mechanical watchmaking back to Glashütte, and today the town is once again home to some of the finest watchmaking in the world.
It was Ferdinand Adolph Lange's passion and desire to aid his impoverished home region that originally helped Glashütte blossom into a world-renowned center of German watchmaking. Born in 1815, Lange completed an apprenticeship in 1835, then, in 1837, embarked on a four-year journey throughout Europe, working with the most famous chronometer makers of the day. Not only did he bring a gigantic cache of knowledge back home to Dresden, but also the seed of a concept to start up his own manufacture of pocket watches and the beginnings of an entire industry.
The mining areas surrounding Dresden were very poor and structurally weak in the 1800s. In the Erzgebirge mountains, silver ore had mostly run out and farmers were finding it hard to make ends meet. People learned basket weaving to keep their hands busy and keep at least a few talers coming in. While clock- and watchmaking played a role in Saxon life during this time, there was no real horology industry in the area, an element that was an intrinsic part of both London's and Paris's cultures at the time.
Upon returning from his travels, Lange was intent on initiating a new watchmaking industry in Saxon. He submitted a clever concept to the Saxon government that included concentration on one single pocket watch model, the design of which he had simplified and perfected so that it could be made with self-manufactured machinery as well as division of labor, a novel concept at the time. His concept also included an apprentice training program designed to evolve into a later supplier system.
The government agreed to provide money to purchase tools and instruments and a loan to cover other start-up costs and the 15 apprentices' costs of living for three years. It also chose to locate the watchmaking factory in Glashütte, one of a number of poor Erzgebirge communities urgently in need of help.
In 1845, Lange founded not only a factory for watchmaking that would bear his name, he established an entire industry. He patiently taught his apprentices the basics of watchmaking and even encouraged them to break off from him and start their own small supplier firms once they had thoroughly mastered the craft—thus providing the region with a new means to make a living.
Though Lange established a watchmaking dynasty with his own groundbreaking entrepreneurship, he also exhibited great community spirit by founding various clubs and societies and financing infrastructure elements such as roads, bridges and even living space for 60 families. He also served as mayor of Glashütte for 18 years in addition to developing a foundation that insured his workers and gave them a pension.
Over the course of the following century, Glashütte became the German center for fine watchmaking, highlighted by the founding, in 1878, of the German School of Watchmaking, a specialized technical school that soon earned a global reputation. The Lange family also introduced the metric system to watchmaking and invented the invar alloy for movement springs, both of which became standards in watchmaking.
Throughout the years, it was A. Lange & Söhne that waved the flag of luxury watchmaking in the Teutonic regions; the name itself was a sure sign of quality, attracting and inviting various other brands to establish their own factories in the valley created by the Müglitz River.
You must be logged in to post a comment.
Log In If You're Already Registered At Cigar Aficionado Online