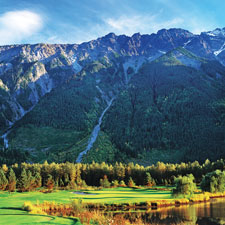 The 17th hole of the Whistler Blackcomb course at the Big Sky resort in British Columbia.
Golf on the Slopes
(continued from page 1)
"It's tough to reconcile the rugged, mountainous terrain ideal for skiing with the softer, gentler contouring appropriate for golf," says Golfweek architecture editor Bradley S. Klein, perhaps the industry's most respected design critic. "Yet despite the contrasts, both sports share some similarities when it comes to thoughtful design. The flow of the game, whether skiing or golf, has to be mindful of proper drainage. The surface must be carefully prepped and yet appear to be entirely natural. And there has to be distinctiveness in both the slopes to be negotiated and the long vistas that are provided along the way. When properly done, both provide fodder for endless discussion and fantasy afterwards about the best places to visit and the most memorable landforms."
"In the old days, budget constraints and the short growing season usually yielded short, narrow, poorly conditioned courses, but technology, imagination and sufficient funds have changed all that," notes Passov.
"In the golden age of the 1920s, you had to find a flattish parcel, so that your course could be walked. The advent of golf carts and earthmoving equipment allowed for the development of sites that traversed the mountainsides, but on a modest budget, you were left with lots of blind shots and awkward slopes. Only recently have architects been realizing the true potential of mountain golf, which at its best combines playability with the 'wow' factor. Robert Trent Jones Jr., Jack Nicklaus and Tom Weiskopf have been building wonderful mountain courses for many years, and more recently, Jim Engh, Tom Fazio and Greg Norman have mastered the craft. The best mountain tandem in the country is Colorado's Red Sky Ranch & Golf Club, near Vail, where Fazio and Norman have each carved out relentlessly challenging but remarkably beautiful tests."
Here is a closer look at six of the best areas in the country today for mountain golf.
Vail Valley, Colorado
Passov is not alone in his opinion about Red Sky Ranch & Golf Club (redskygolfclub.com). Virtually everyone who has played the two courses here agrees that Red Sky in Wolcott, Colorado, built by Vail Resorts, is the nation's finest example of ski-resort golf. Except that it is not quite at a ski resort.
Red Sky lies about 20 minutes from Beaver Creek and 30 from Vail. However, as a private club, most of whose members are homeowners—including PGA Tour Commissioner Tim Finchem—public access is available only to guests of hotels owned by or affiliated with Vail Resorts, mostly in the upscale, sister ski towns of Vail and Beaver Creek.
The two layouts combine the essence of prime ski-town vacation living with the very best of Rocky Mountain golf. The Norman layout is generally considered the marquee course, though both have been rated in Golf Magazine's Top 100. It is certainly more dramatic, with severe elevation changes, stunning views and hazards of every description.
The Fazio course is somewhat gentler and easier to navigate, but still offers drop-dead views at every turn. The 36 holes are combined with a very comfortable clubhouse, a giant log structure in keeping with the Wild West theme, and quality practice facilities. Golf Odyssey's Baum believes that by virtue of its multiple top-rated courses, the club deserves mention in the same breath as Bandon Dunes, Pebble Beach and Destination Kohler, adding that, "at 7,500 feet, Red Sky Ranch offers the best one-two combination of mountain golf in the world."
Even closer to Vail and Beaver Creek is another multicourse facility of note, Cordillera (cordillera-vail.com), another large, private residential community, this one with 54 holes, plus a one-of-a-kind nine-hole layout designed by instructional guru Dave Pelz specifically to practice the short game, a fun test unlike any other par-3 course in the nation.
You must be logged in to post a comment.
Log In If You're Already Registered At Cigar Aficionado Online