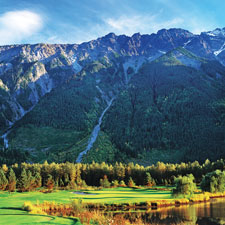 The 17th hole of the Whistler Blackcomb course at the Big Sky resort in British Columbia.
Golf on the Slopes
I came for the winter, but stayed for the summer." Ask ski-crazed transplants to the mountains why they live where they do, and this is a refrain you will hear repeated in virtually every high-altitude resort in the country, to the point of cliché. But like most clichés, there is a lot of truth behind it. This is particularly true in recent years, as the nature of ski towns has changed dramatically, to the point where people are simply coming for the summer to begin with—especially golfers.
Paradigm changes that have spelled trouble for the ski industry have been a boon for golfers. Due to skyrocketing snow-making and insurance costs, it is simply no longer economical to operate a ski resort under the traditional model of running a mountain and selling lift tickets. Whereas the slopes were once the reason behind the town, and other amenities accessories to skiing, the skiing itself is now an accessory to the mountain town, which has become decidedly four-season in nature.
All of the big ski resort operators such as Intrawest, Aspen Skiing Co., Vail Resorts and Boyne Resorts, along with many smaller peers, have turned their focus from selling lift tickets to selling real estate. To do this, they have had to offer more than just skiing. The new mountain town mantra is "lifestyle," and for more than a decade, once sleepy or even chichi ski towns have been busy repositioning themselves as year-round centers of sport and culture, building performing arts centers, sushi bars, bike trails, village centers, parks, ziplines and, most of all, golf courses.
Necessity may be the mother of invention, but in retrospect it seems surprising that so few people realized that the incredible natural beauty and setting of places like the Rockies would lend themselves to golf. Whatever the motive, golf fans now have many reasons to rejoice.
"Ski destinations are inherently fun places," notes David Baum, publisher and editor in chief of golf travel newsletter Golf Odyssey (and a member of the Cigar Aficionado golf ranking panel). "They have a carefree party atmosphere, excellent dining, trendy boutique shopping and wonderful outdoor activities. The air is fresh, the sunshine brilliant and the temperatures quite comfortable thanks to the absence of humidity. Ski destinations make outstanding summertime golf getaways. Many ski destinations are also very good dining towns, and the village nature of most ski retreats means you can eat, drink and be merry while leaving the car at your hotel."
Joe Passov, architecture and course rankings editor at Golf Magazine, is one convert. "Mountain golf is a direct conduit to memorable, often spectacular golf, because it's got the one ingredient that lends itself to instant drama: elevation change. For most golfers, there's no shot more thrilling than a downhill plunge, and mountain golf provides those in abundance. Watching your tee shot soar, with the ball seemingly suspended in air, is exciting, as are the long views that accompany the shot."
Baum agrees: "What's more exhilarating than standing at the top of the world and blasting a majestically arched drive through the thin air 100 yards farther than you'd ever dream of hitting one at your home club?"
Towns such as Aspen, Vail and Sun Valley are famous around the globe and synonymous with luxury vacation hospitality, but even in ski season, most of their appeal and most of the time spent by visitors is off the slopes. All of these ancillary benefits, from fine dining to five-star lodging, can still be enjoyed in golf season, though without the crowds—and usually at much more reasonable prices.
The one caveat of golf in ski country is that it is almost always, by definition, the architectural style known as "mountain golf," which is the hardest design aesthetic to execute well. The nation, especially the East, is full of ski-resort courses that are failed experiments, with severely off-kilter fairways that kick every tee shot to the same location no matter where you hit it.
Some of these designs are so ridiculous that they have given the entire genre of mountain golf a bad name. But in recent years, the sport's top designers have finally been drawn to the mountains, and coupled with technological innovations, high-altitude golf has produced some stunning gems, including several that have been widely ranked among the country's best.
You must be logged in to post a comment.
Log In If You're Already Registered At Cigar Aficionado Online