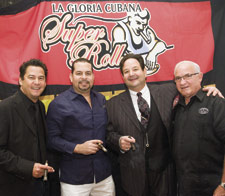 Team La Gloria, ready to spread the gospel to cigar lovers in Las Vegas, inclues, from left to right, Rick Rodriguez, Yuri Guillen, team leader Michael Giannini and "Pope" Leo Peraza.
The Men Behind La Gloria
A small group of passionate cigar men give the La Gloria Cubana brand a boutique feel, despite being part of a huge corporation
(continued from page 3)
First there was the Artesanos de Tabaqueros, a two-toned, dual blended cigar that not only has two wrappers, but has two distinct flavor profiles within one roll. Then came the Tabaqueros de Obelisco, a figurado shaped like the towering Monument to the Heroes of the Restoration in Santiago, Dominican Republic.
The cigars, a celebration of the artistry of  La Gloria's rollers, are stunningly presented in half-circle (demilune) boxes, fanning out from their pointed heads. The blend consists of an Ecuadoran wrapper, an American broadleaf binder from the Connecticut River Valley and a blend of Dominican and Nicaraguan fillers. Most recently, the La Gloria Cubana Serie N shipped to retailers last fall as a medium-bodied alternative to the Serie R.
The band has been redesigned to reflect the new series, which uses a dark, Ecuadoran wrapper—Team La Gloria calls it capa oscura—as well as proprietary Nicaraguan tobacco. The wrapper is adorned with an "N" cut out of a lighter shade of tobacco and stuck onto the cigar like a varsity letter—a contrast against the dark cover leaf and something that Giannini chuckles about. "You know how mad the factory workers were when I made them do that? They still give me dirty looks."
So what do the teachers think of their students? Menendez, who is still very active with General Cigar, has overseen their progress.
"While I am still happy to share ideas when called upon, I feel that with these four gentlemen, we have the makings of a dream team," says Menendez, who enjoys collaborating with the Team. He calls Giannini a "true cigar man who has a firm grasp of what the consumer wants."
Menendez is also impressed with Guillen's ability to work with tobacco varieties not traditionally used in General Cigar products and praises the amount of progress Rodriguez has made. "He has grown tremendously over the last several years," says Menendez, "and is well on his way to becoming a great cigar man. And Leo [Peraza's] 50 years of experience rounds out the team. They are the perfect four legs for a table."
Menendez has at least 50 years of experience in the industry as well and avails himself to the Team at all times, though he is not the only one who lauds them. Even the departed Perez-Carrillo has favorable words.
"When I left, it was their turn to take over and bring La Gloria Cubana to the next level," says Perez-Carrillo. "In their hearts, I know they want to keep it a boutique brand, and they'll make sure La Gloria Cubana stays in the position it deserves. I think it's a great team." Praise from the king himself.
Back at the Super Roll event in Las Vegas, Peraza is seated on stage at an elevated rolling table and his deft hands are projected onto two giant screens. He concentrates only on his work, though perhaps from time to time his mind wanders back to a factory in Miami, or maybe even Cuba. Peraza finishes one cigar, reaches over to a pile of wrapper leaf, and begins another. His skill is centuries old and 500 people try to emulate it and learn as they smoke cigars in unison. Giannini picks up a piece of tobacco leaf and holds it up to the audience.
"This is your wrapper leaf. This is everything," he says. "You want to get out all the wrinkles. You want to make it perfect. If the wrapper dries out, just take a little bit of water to it."
Comments
2 comment(s)
wsummersjr@carolina.rr.com — November 27, 2011 4:09pm ET
---
Michael Mehringer — Indianapolis, IN, USA, — March 23, 2012 9:36pm ET
---
You must be logged in to post a comment.
Log In If You're Already Registered At Cigar Aficionado Online