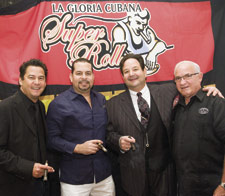 Team La Gloria, ready to spread the gospel to cigar lovers in Las Vegas, inclues, from left to right, Rick Rodriguez, Yuri Guillen, team leader Michael Giannini and "Pope" Leo Peraza.
The Men Behind La Gloria
A small group of passionate cigar men give the La Gloria Cubana brand a boutique feel, despite being part of a huge corporation
(continued from page 2)
Rodriguez remembers when he was unexpectedly called by Núñez to roll five boxes of cigars. Núñez grabbed a random smoke, lit it up, looked at Rodriguez and said, "Ricky, you have wasted my time."
"It was humbling," admits Rodriguez, "but you need to learn everything, and my purpose is to learn everything about tobacco."
After the Dominican Republic, Rodriguez spent time in Honduras, where he diversified his exposure by visiting more farms, trying other types and blends of tobacco, as well as observing the operations in another factory outside of General Cigar Dominicana, namely Honduras American Tabaco S.A., where Punch and Hoyos are made. During his training, he rarely got to see his family. Rodriguez apprenticed under veteran cigar master and senior vice president for General Cigar Benjamin Menendez, who refined Rodriguez's tobacco education.
"If Daniel Núñez built my foundation, Benji built my house," says Rodriguez. But Rodriguez's position and future is more or less an experiment.
"This has never been done at General Cigar," says Giannini, "and this program was created exclusively for Ricky. He's a cigar master-in-training, meaning he is constantly working on new blends and innovations. He will hope to complete his course work by the end of 2011."
Despite his ongoing training, Rodriguez still finds the time to travel with the Team as a brand ambassador.
Team La Gloria's cigar roller and silent sage is Leo Peraza. He's been working in cigar factories (such as Cuba's Romeo y Julieta) since he was 14 years old, and is a living, working remnant of both the prerevolution and post-revolution Cuban cigar industry. Pereza expatriated to Miami in 1995 and began working at El Credito Cigars (the Little Havana factory that rolled La Gloria Cubanas) that year. While Giannini and Rodriguez interact with La Gloria smokers, the white-haired Peraza seldom speaks. He assembles tobacco components on a rolling table with monastic concentration. Sumatra leaf is stacked around him like parchments in a collection of holy texts, and when he rolls a cigar, his movements are fluid and natural, as though guided by a higher power. The tobacco, pliable and obedient, responds to his hands.
At a Team La Gloria event, you have the option to be a spectator of this art, or a participant. Attendees watch carefully and are invited to try their hand at rolling a cigar themselves. Skillful or not, this exercise of rolling, listening, smoking and engaging will, of course, bring them closer to the brand.
"We do in-store Super Rolls around the country approximately 30 to 40 a year," says Giannini, "and this is a consumer participation event but obviously on a much smaller scale than we do the Big Smoke events."
Outside of maintaining the image and quality of the La Gloria Cubana brands, Team La Gloria has also innovated. When brainstorming concepts and experimenting with blend ideas, they enjoy access to enormous volumes of tobacco during the trial-and-error process, an advantage to operating under the umbrella of a large corporation.
Comments
2 comment(s)
wsummersjr@carolina.rr.com — November 27, 2011 4:09pm ET
---
Michael Mehringer — Indianapolis, IN, USA, — March 23, 2012 9:36pm ET
---
You must be logged in to post a comment.
Log In If You're Already Registered At Cigar Aficionado Online