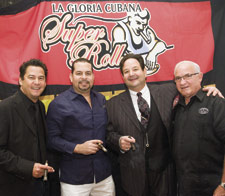 Team La Gloria, ready to spread the gospel to cigar lovers in Las Vegas, inclues, from left to right, Rick Rodriguez, Yuri Guillen, team leader Michael Giannini and "Pope" Leo Peraza.
The Men Behind La Gloria
A small group of passionate cigar men give the La Gloria Cubana brand a boutique feel, despite being part of a huge corporation
(continued from page 1)
Giannini has been visible for years, present at cigar events as a kind of character actor for La Gloria Cubana. His appearance contradicts all the notions you might have of a serious cigar man. Pinstriped suits and haute-horology watches aren't normally images that evoke tobacco fields and factories, yet he is unapologetically tailored and proud to sport the Hyde Park look of a pocket watch and vest.
Nor does Giannini feel compelled to have his clothing allude to his 27-year cigar history, which started in a small smoke shop in Philadelphia during the early 1980s while working on a PhD in psychology. He would own the shop before becoming a broker for a tobacco and accessories company in the 1990s, a stepping-stone that lead him to Ashton as a sales representative for 18 months. "I think like a cigar smoker because that's what I am," he asserts.
Giannini came to Swedish Match in 2000 where he was immediately assigned to promote La Gloria Cubana under the tutelage of Perez-Carrillo. At the time, the La Gloria Cubana core line and the Serie R existed.
It was Giannini's idea to establish Team La Gloria as part of the promotions aspect of the brand—to not only keep the cigar brand in the consciousness of cigar smokers, but to make sure that the smokers still have a connection. "La Gloria smokers are different than Partagas or Macanudo smokers," says Giannini. "They're part of a fraternity and are serious loyalists because they embrace the personalities behind the brand."
However, the psychology of kinship and fraternity can only go so far. In the end, a consistent, quality product is what earns the loyalty and seals the bond, and that starts with tobacco. When Guillen began working at General Cigar Dominicana in 1997, he was first charged with supervising production of the Macanudo and Partagas brands. He had an engineering degree from the Universidad Technologica de Santiago in the Dominican Republic, but had no formal experience with tobacco. Today he oversees the tobacco for every La Gloria brand, supervising the grading, sorting, sizing and fermenting of all of the tobacco found in every La Gloria Cubana cigar.
 "I started extracting all the knowledge I could from Ernesto," says Guillen. "At first, he didn't think I could handle the pace." That pace may make Guillen's job the most difficult: he is dealing with tobacco by the ton. As with any brand, the right types of tobacco must be properly chosen. Fermentation time must be assessed, and samples must be smoked tobacco-by-tobacco, crop-by-crop, in order to properly blend the right proportions throughout the cigar. Consistency is paramount, especially when maintaining a boutique taste for such a large brand.
Some 500 cigar lovers attempted to make cigars by following the step-by-step work of cigar artisan Peraza at last year's Big Smoke Las Vegas.
In the case of the La Gloria Cubana core line, Guillen is responsible for the quality of its Ecuadoran Sumatra-seed wrapper, Dominican binder, and blend of Nicaraguan and Dominican filler leaves. It's a small batch, boutique formula that he must honor, yet scale up exponentially without giving the end product an assembly-line taste.

Guillen points to two retired executives—Angel Daniel Núñez, the former president and chief operating officer of General Cigar Co., and former executive vice president of tobacco and operations, Modesta Fondeur—as his personal mentors. The wild card of the team, and perhaps the most vigorously trained, is Rodgriguez.
"I sold carpets before I got into the industry, but I was a casual smoker," says Rodriguez. "When I became a salesman for General Cigar, I had the North Florida territory for six years before the Cullmans [who ran General at the time] approached me to get deeper in the industry."
Impressed with Rodriguez's passion and industrious nature, Núñez and former chairman Edgar M. Cullman saw potential. "When I agreed, they shipped me out to the Dominican Republic almost immediately," says Rodriguez. "From farming to fermenting to tobacco selection to growing, I learned all of this and Daniel [Núñez] was my mentor, but it was tough. He was like a drill sergeant. He said to me, 'My job is to bring you to your wall of limitations and then to push you through that wall. You will be angry, but you will appreciate it in the end.'"
Comments
2 comment(s)
wsummersjr@carolina.rr.com — November 27, 2011 4:09pm ET
---
Michael Mehringer — Indianapolis, IN, USA, — March 23, 2012 9:36pm ET
---
You must be logged in to post a comment.
Log In If You're Already Registered At Cigar Aficionado Online