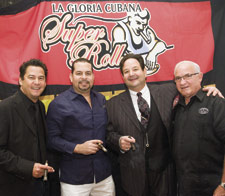 Team La Gloria, ready to spread the gospel to cigar lovers in Las Vegas, inclues, from left to right, Rick Rodriguez, Yuri Guillen, team leader Michael Giannini and "Pope" Leo Peraza.
The Men Behind La Gloria
A small group of passionate cigar men give the La Gloria Cubana brand a boutique feel, despite being part of a huge corporation
A man in a pinstriped, well-tailored three-piece suit paces the room with a microphone on a Sunday morning. He has the alert countenance of a boxing promoter, but the passion and indefatigable gusto of a preacher. This is Michael Giannini, director of marketing for El Credito Cigars and he's talking to a ballroom full of 500 people. Though he does not break into song, there is a lyrical cadence to his voice as he sings the praises of the venerable La Gloria Cubana cigar brand.
In some of the more evangelical churches, this might be called channeling. Giannini is a strong presence here, but he doesn't spread the word alone. If he indeed adopts the role as preacher, then his ministry is Team La Gloria: an assembly of four handpicked men dedicated to the life and perpetuation of this brand.
The event they preside over is a Team La Gloria Super Roll, which is a traveling demonstration that not only spreads brand awareness, but shows first-hand how a La Gloria Cubana cigar is made. This particular Super Roll happens to be the Team's largest congregation as it is an integral part of the Cigar Aficionado Big Smoke in Las Vegas. Giannini starts with a prayer of sorts:
"We have a real affinity for our veterans here at General Cigar and La Gloria Cubana. We adopted the 10th Mountain Division. There were four gentlemen last year who I introduced. They are now in Afghanistan, but they are here with us in spirit." He lifts his hand in the air, lowers his head and continues into the microphone. "To all the mothers, fathers, husbands, spouses, brothers and sisters. To the troops." There is a moment of silence. Then the rest of Team La Gloria takes its cues from Giannini and the gospel of tobacco begins.
You already know La Gloria Cubana. You know the brand has Cuban roots, and was once a cult-classic boutique cigar made in a small rolling gallery in Miami before expanding into the Dominican Republic, then was acquired by corporate giant Swedish Match AB in 1997. Perhaps you even met the brand's former owner and ambassador Ernesto Perez-Carrillo.
One cannot talk about this brand without mentioning his name and for good reason: what he did was extraordinary. How many people could both project a boutique feel and at the same time maintain consistent quality control over a corporate-owned, nationally distributed brand for so many years? La Gloria is indeed a boutique brand within a corporation. What you might not know is that Perez-Carrillo had a dedicated pit crew to help maintain and develop the line, but when he departed La Gloria and Swedish Match subsidiary General Cigar in March of 2009, La Gloria Cubana was left without a captain or a figurehead.
Rather than trying to introduce a new face or identity to this wellestablished, and in some cases, beloved brand, General turned La Gloria Cubana over to the support team that helped keep the cigar line on the forefront of the industry. Previously, they had no name.
Now, this gang of four has come forward and is known as Team La Gloria, the ministers of the brand: Michael Giannini, director of marketing for El Credito and team leader; Yuri Guillen, production manager for General Cigar Dominicana, where La Glorias are made; Rick Rodriguez, premium cigar apprentice; and Leo Peraza, master cigarmaker. Seem like a marketing ploy? It isn't. This A-Team was trained and established before anyone knew who they were or before they were given an official name.
I sat down with Team La Gloria in Las Vegas the day before the Super Roll for a round-table breakfast interview.
"You have the head of our brand who leaves," says Giannini, referring to Perez-Carrillo, "but people don't realize that they are still left with a team of heavy hitters. I look at it like this: There are celebrity chefs who can have 50 restaurants, but are so rarely in the kitchen. We're the guys in the kitchen."
Comments
2 comment(s)
wsummersjr@carolina.rr.com — November 27, 2011 4:09pm ET
---
Michael Mehringer — Indianapolis, IN, USA, — March 23, 2012 9:36pm ET
---
You must be logged in to post a comment.
Log In If You're Already Registered At Cigar Aficionado Online