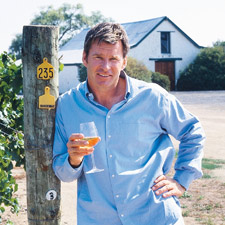 On a visit to Australia in 2002, Nick Faldo hooked up with winemaker Wayne Stehbens of the Katnook Estate to develop his own label of Shiraz, Cabernet and Sauvignon Blanc.
Golfers Uncorked
Many world-renowned present and past tour professionals have invested heavily in the world of wine and are turning out top-quality wines
(continued from page 8)
"On special occasions it's really nice to open a bottle of Annika for family and friends," says Sorenstam. "The Wentes are first-class people. I've put my name on wines I am very proud of."
Mike Weir
When Canadian Mike Weir won the 2003 Masters, it meant that he would be the host of the Champions' Dinner the following year at Augusta National. He insisted that the wines for the dinner come from the Niagara Peninsula wine region of Ontario, Canada. After that dinner he got a slew of offers from the various winemakers of the region to put his name on a label.
In 2004 Weir started his Mike Weir Foundation, which aids disadvantaged children across Canada. He thought that it might be a good idea to sell wine with all the proceeds going to the foundation. Weir's wines are produced by Chateau des Charmes and about 30,000 cases of several varietals are produced annually. There is a Cabernet/Merlot blend, a Pinot Noir, a Chardonnay, a Sauvignon Blanc, a Rosé and a sparkling wine.
"I had no intention of getting into the wine business before I was approached by our former partners as a way to make money for my foundation," says Weir. "It really started with the foundation component. We do a lot with the Children's Miracle Network in hospitals across Canada."
Weir's grandfather was Italian and made his own wine. Weir has enjoyed wine throughout his career and has a small vineyard at his home in Utah where his wife and children recently made the first harvest of Sangiovese grapes. He hopes to make a few cases from them. And he definitely likes being in the wine business.
"I definitely taste the wine," says Weir. "I leave the winemaking to the professionals, but I taste from the barrels and give my opinion."
And when he's not playing, he and wife Bricia enjoy wine when they go out to dinner.  "I take a picture of the label with my iPhone so I can remember it," says Weir.
Jeff Williams is a contributing editor for Cigar Aficionado.
You must be logged in to post a comment.
Log In If You're Already Registered At Cigar Aficionado Online