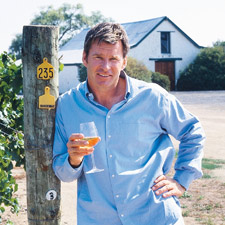 On a visit to Australia in 2002, Nick Faldo hooked up with winemaker Wayne Stehbens of the Katnook Estate to develop his own label of Shiraz, Cabernet and Sauvignon Blanc.
Golfers Uncorked
Many world-renowned present and past tour professionals have invested heavily in the world of wine and are turning out top-quality wines
(continued from page 7)
"It was my idea to extend our brand and honor my father with this wine," says Player's son Marc, who came up with the idea while running his father's business operations. "My father is an international spokesman for companies, he designs golf courses, he has equipment and clothing lines. We have our own brand of tea, Rooibos (Red Bush) herbal tea. My father is certainly no drinker. A beer at a BBQ, maybe a yearly scotch. I wasn't going to try to convince anyone that my father went from being a teatotaler to a connoisseur of red wine. So the wine honors my father's major championships." Of course the wine is South African, made in a Burgundy style. "A good friend of ours runs the Quion Rock winery and he said why don't we try to do a deal," says Marc Player. "There was reluctance on my part, but I felt that it could extend our brand, honor my father and we could have fun with it. And I certainly didn't want to put out plunk in a bottle."
So far two vintages have been released, the first to honor Player's first major triumph at  the 1959 British Open and another honoring his second major at the 1961 Masters. South African artist Athol Moult created the labels and winemaker Carl van der Merwe created the blends.
"We have done 30,000 bottles," says Marc Player. "It might take nine years to issue it all or it might take 50. We aren't under any pressure to do so and will only do it when we are sure it's the wine we want to put out there."
Annika Sorenstam
Annika Sorenstam is the greatest female player in history. Among her 72 LPGA victories are 10 major championships. She's now retired, married and has her first child. She's actively involved in the business of golf, and passionately involved with making her own wine.
Sorenstam got into the wine thing when in 1990 she codesigned a golf course with Greg Norman at the Wente Vineyards in the Livermore Valley of California. She had enjoyed wine, but as a major championship winner could never drink too much of it. But she knew what she liked, and when she met winemaker Karl Wente, it was a perfect match.  "As an athlete I didn't drink very much, but had sips here and there of very good wines, had friends who were into wine and I gained an interest in it," says Sorenstam.  "And I really got into cooking as well. I went to the Wente Vineyard and met Karl and was really sort of turned on by the experience and came away with this little vision of making Annika Wine."
Eventually that vision came true, with the release of 600 cases of 2006 Syrah, which was followed, by another small release of 2008 Chardonnay.
"I was at the tasting from the beginning. I knew what I wanted but I didn't know how to blend wine to get to that place, so Karl was obviously instrumental in getting me there," says Sorenstam. "I told him I wanted full-bodied wine, something really meaty, a bottle you can drink socially without having to have food with it. I wanted it smooth with some fruit but not too much, some oak but not too much.
When I take the last sip, I want it to be there but not too strong. I told him what I was tasting and he knew how to get what I wanted."
So Annika Wine was born.
You must be logged in to post a comment.
Log In If You're Already Registered At Cigar Aficionado Online