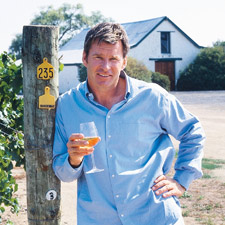 On a visit to Australia in 2002, Nick Faldo hooked up with winemaker Wayne Stehbens of the Katnook Estate to develop his own label of Shiraz, Cabernet and Sauvignon Blanc.
Golfers Uncorked
Many world-renowned present and past tour professionals have invested heavily in the world of wine and are turning out top-quality wines
(continued from page 6)
From the outset, Norman was often involved in the winemaking, approving the blends and the vintages. But most of that is now done by his daughter Morgan-Leigh, who oversees the business.
"I'm my father's eyes, ears and taste buds. I'm a trained chef and I do winemaker dinners," says Morgan. "I'm involved from the grapes on the vines to the retail purchase. Three years ago my dad asked me to take over this part of his business. But he's still involved in all the major decisions."
As for the wine experience itself, Norman says he prefers to keep it simple. "I truly think that any memory where I am sharing a bottle of wine I love with family and friends is truly one of the best," says Norman. "That is what wine is all about, the simple moments when you can sit back, relax and spend time with those you love while enjoying a glass of wine."
Arnold Palmer
When Arnold Palmer played in a tournament in France in the 1960s, it wasn't unusual for him to stop at a restaurant along the way and have wine with dinner. It was something that made the trip extra special. "I gained an appreciation of wine back then, not that I could drink very much of it," says Palmer.
That appreciation of wine, and his friendship with Mike Moone, founder of Luna Vineyards in the Napa Valley, led to Palmer's producing his own label in 2003. Currently Palmer's wines include Cabernet, Reserve Cabernet and Chardonnay.
"He comes out about every other year to taste the blends at the winery, but we bring him wine to his home in The Tradition [La Quinta, California] where I have a home," says Moone.  "He does like to taste the wine and if he doesn't like it he'll tell you, believe me." Currently the winery puts out about 25,000 cases a year with the Cabernet and Chardonnay priced at a modest $15 a bottle. The Reserve Cabernet is $100. "We made 200 cases and it's very good stuff," says Moone.

The wines are featured at the Arnold Palmer Restaurant in La Quinta and his Bay Hill Club outside of Orlando, Florida, as well as the clubhouses of courses he has designed.  "It just made sense to have my own label there," says Palmer. "It's nice to have your name on something that brings enjoyment."
Gary Player
Gary Player, nine times a major champion and for 50 years the golf world's champion of physical fitness, now has a wine label, and that may come as a surprise. Player has hardly had a drink of anything alcoholic in his life.
You must be logged in to post a comment.
Log In If You're Already Registered At Cigar Aficionado Online