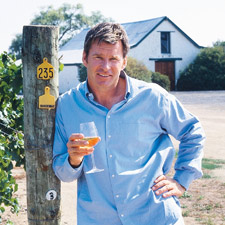 On a visit to Australia in 2002, Nick Faldo hooked up with winemaker Wayne Stehbens of the Katnook Estate to develop his own label of Shiraz, Cabernet and Sauvignon Blanc.
Golfers Uncorked
Many world-renowned present and past tour professionals have invested heavily in the world of wine and are turning out top-quality wines
(continued from page 5)
"It takes time to get your feet on the ground, getting your wine accepted," says Goosen.  "We are in the Wentworth Golf Club restaurant, in the Old Course Hotel at St Andrews, in the Turnberry Hotel.  We have gotten our wine on South African Airways. We have won medals."
Like golf, the wine business can be demanding. "Unfortunately because of my playing schedule I can't always be at the farm when I would like to be," says Goosen. "I'm pretty much paying the bills. But I want people to enjoy my wine. That's the bottom line."
Jack Nicklaus
Jack Nicklaus likes to tell this story on himself: "I used to get also sorts of great wines given to me. Cliff Roberts [legendary ruler of the Augusta National Golf Club] gave me great French Bordeaux, cases of it. I had all sorts of good stuff, but I really wasn't a drinker and Barbara didn't drink much either . . . It used to give me headaches. We served it at dinner parties at home, that's about it. Anyway, I didn't have a proper wine cellar then. One day I discovered it had all gone bad. That was shame."
Nicklaus told this story during the launch of his two labels this spring, a 2007 Cabernet and 2007 Private Reserve. It occurred to Nicklaus a few years ago that a wine label could serve him well in the golf course business, getting it into the clubhouses of the courses he designed, and he's designed more than 300 courses worldwide. "It just made sense to have a wine in the business I'm in," says Nicklaus. "It's a very nice thing to have a quality wine with your name on it. I'm not expert on it, but I do know what I like."
It appears that Jack's wine will be a success.
"The 2007 vintage, which was a small production, was basically sold out in Ohio and Florida and a few other places," says Bill Terlato, whose company produces the wines.  "The 2008 vintage, which will be released in January of 2011, we will make about 15,000 cases. We already have a firm order for 6,000 cases from China and are about 70 percent sold in advance."
Greg Norman
You might guess that Greg Norman is the giant among golfers with their own wine labels. He's been involved in wine since the mid '90s, and his Greg Norman Estates produces more than 200,000 cases annually of wine from Australia and California that span a broad range. Shiraz, of course. Cabernet, of course. Several other varietals, and a sparkling wine. The two-time British Open champion has had an outsized business career under the umbrella of Great White Shark Enterprises. Golf course design, real estate, turf development, golf event management, clothing, Wagyu beef purveying are part of his empire, and his wine is part of an across-the-board branding effort, as well as fulfilling a passion.
"I've always had a deep passion for wine as I was introduced to it early in my career traveling on the European Tour," says Norman. "I saw there was an opportunity for me to venture into my own wine. I knew I had a great partnership with Fosters which I felt confident would result in a strong business. I'm very proud to say that not only has Greg Norman Wine Estates grown into a strong wine company, it has also been a strong business venture."
You must be logged in to post a comment.
Log In If You're Already Registered At Cigar Aficionado Online