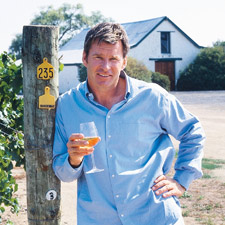 On a visit to Australia in 2002, Nick Faldo hooked up with winemaker Wayne Stehbens of the Katnook Estate to develop his own label of Shiraz, Cabernet and Sauvignon Blanc.
Golfers Uncorked
Many world-renowned present and past tour professionals have invested heavily in the world of wine and are turning out top-quality wines
(continued from page 4)
David Frost has wine in his genes. "I am the third generation of my family in the wine business," says Frost, another South African who is a winner on the PGA and European Tours, and now at age 50 a winner on the Champions Tour.
In 1994, he set about to find his own vineyard and ended up buying 300 acres in the Paarl wine region. But at first it wasn't about the wine.
"My brother [Michel] looked around, found a vineyard that had both table grapes and wine grapes," says Frost. "I was originally interested in the table grapes, but moved it more into wine grapes. I bought the vineyard just before Mandela was elected. I was trying to be optimistic about the future of South Africa."
By 1997, with Michel supervising the operation, Frost gave wine-making a shot. He produced 2,000 cases of Cabernet from grapes in his own vineyard.  Excited about the prospects, in 1998 he brought in a winemaker from the Napa Valley, Jason Fisher.  "I wanted a wine that more acceptable to the American palate," says Frost. "French-style wines, like a lot that were produced in South Africa, are earthier. American wines are more fruit forward."
He is most proud of a blend that was first created in 2002, his Par Excellence, from grapes on his estate. All his wines are currently made from his own grapes and he turns out 8–9,000 cases annually. But there is a chance he will expand if a deal with the noted American grocery-store-cum-wine-merchant Trader Joe's is fully realized. "I have a deal with Trader Joe's for less expensive wine, from 5,000 cases to maybe 30,000," says Frost. "We'll see how that works out. The way to make money on this is in quantity."
And if this all works out, Frost, who lives in Dallas, is open to taking in a partner. "I'm trying to find a partner in South Africa," says Frost. "Someone who might takeover supervising the business. It's tough for me living in America."
Retief Goosen
South African Retief Goosen, like so many other players, gained an appreciation of wine during his world travels. The two-time U.S. Open champion has partaken of the finest of vintages on every golf-playing continent, so when a friend suggested a wine company partnership, Goosen was ready for it.
But how is this for a delicious coincidence. Goosen's partner is Morné Jonker, owner of a vineyard in the Upper Langkloof Valley in the Garden Route region of South Africa. The name on the title deed for the property is Ganzerkraal, which means "goose closure" or  "goose enclave," so called because of the flocks of geese that often gathered there.  From his The Goose Winery, Goosen has released three wines, the 2005 The Goose Expression, the 2009 Gander Shiraz and the 2009 Gander Sauvignon Blanc.  "I'm quite fussy with my wine," says Goosen. "I like a good aftertaste. I don't like a dry mouth. I like the New World–style, I guess you would say. Our wine isn't cheap or expensive. Around $25 a bottle."
Goosen says his farm is harvesting about 100 tons of grapes annually and making about 100,000 bottles.
You must be logged in to post a comment.
Log In If You're Already Registered At Cigar Aficionado Online