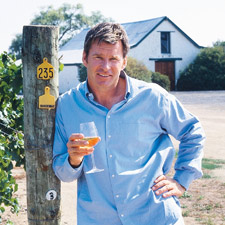 On a visit to Australia in 2002, Nick Faldo hooked up with winemaker Wayne Stehbens of the Katnook Estate to develop his own label of Shiraz, Cabernet and Sauvignon Blanc.
Golfers Uncorked
Many world-renowned present and past tour professionals have invested heavily in the world of wine and are turning out top-quality wines
(continued from page 3)
"I have a free-flowing swing, but I'm quite tough on myself. Personally I'm relaxed, laid back, but on the golf course I'm quite intense," says Els. "That's sort of how I look at the wine. There's a certain style in my wine that matches my personality. It's smooth tasting but strong. It's not for the fainthearted."
Under the supervision of winemaker Louis Strydom,  Els' wines have won gold medals in South African competition and his 2005 Signature Blend was tasted at the recent Wine Spectator's New World Wine Experience in Las Vegas. The Signature Blend is comprised primarily of Cabernet and Merlot, with Cabernet Franc, Petit Verdot and Malbec.  Though he's had the opportunity to taste the best of wines in the best of circumstances, Els says his favorite wine experience is being on his farm and watching how it all comes together.
"I try to be at the farm when we do the picking in March," says Els. "End of summer is the most beautiful time there, when the farm really comes alive, everything there is buzzing. I just love it."
Nick Faldo
Wine is a bit of fun for Nick Faldo. The six-time major champion wore what he called an Iron Chest when he was a player, putting forth a tough- as-steel persona that seemed unapproachable.
But now he's retired from the competitive game and become like a decanted wine: He's opened up nicely.
"I'm not a connoisseur of wine," says Faldo, now a very full-time television commentator and an active golf course designer around the world. "I like fruity, velvety stuff. Stuff you can drink now."
On a visit to Australia in 2002, he hooked up with winemaker Wayne Stehbens of the Katnook Estate, part of the Wingara Wine Group based in the Connawarra wine region.  They tried a few blends of various varietals, and eventually Faldo settled on his own label of wines, of Shiraz, Cabernet and Sauvignon Blanc.
"I go by my Wine 101 taste buds," says Faldo.  "Make about 20–30,000 cases. I thought the wine thing went well with the entertainment side of my golf course design business. You know, have it in the clubhouses of the courses I've designed." And as for his personal tastes, Faldo says: "I drink a little more now that I don't play on the tours. I like reds because they are less calories, have the antioxidants. Medicinal, you know."
David Frost
You must be logged in to post a comment.
Log In If You're Already Registered At Cigar Aficionado Online