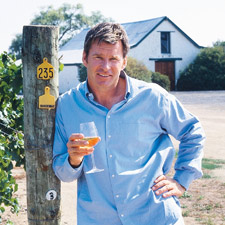 On a visit to Australia in 2002, Nick Faldo hooked up with winemaker Wayne Stehbens of the Katnook Estate to develop his own label of Shiraz, Cabernet and Sauvignon Blanc.
Golfers Uncorked
Many world-renowned present and past tour professionals have invested heavily in the world of wine and are turning out top-quality wines
(continued from page 2)
"I started playing golf with Bill in about 1999 and I became interested in his work," says Donald, twice a winner on the PGA Tour, three times a winner on the European Tour and a member of Europe's winning Ryder Cup team this past October. "We became good enough friends to try doing a wine together."
The friendship turned into a partnership for a Luke Donald wine label, the initial offerings being a 2008 Claret-style wine sourced from the Rutherford and Stags Leap appellations of the Napa Valley, and a 2009 Carneros Chardonnay. Both are limited releases of about 1,000 cases.
"I have always liked the Bordeaux style of wine, they are earthier than most American style wines," says Donald. "I like the blended style. My Claret is 44 percent Cabernet, 43 percent Merlot, 12 percent Cabernet Franc and one percent Petit Verdot. It's marketed a little toward the younger generation. It has my initials on the label, not a picture of a vineyard.  I think younger successful people are into wine."
Donald has about 800 bottles of wine in the cellar of his Chicago home. A renaissance man of a sorts, Donald is also a fine artist and a world traveler.
"I play a sport where I'm free to compete as long as I want," says Donald. "Wine is a hobby now and I have a lot to learn. In my late life I would love to shift gears more toward making wine."
Ernie Els
By 1999, Ernie Els had twice won the U.S. Open championship and had been traveling the world, embracing its joys. Among them was a good glass of wine.
"I always enjoyed a nice glass of wine, had a lot of good wine in my travels," says Els. "I know the wines I like."
Fortunately and coincidentally, Els is a South African, from a country that produces high-quality wines and high-quality golfers. Among the friends Els gathered along the way was Jean Englebrecht, a renowned South African winemaker. It was through that friendship that Els came to form his own wine label in 1999. By 2004 Els had bought his own vineyard on the slopes of Helderberg Mountain in the vineyard-rich Stellenbosch region of South Africa. There Englebrecht and Els established a winery and produced well-rated wines under Els' label and that of Englebrecht Els.
As a world-class golfer, Els knew what he wanted from the game. When he came into the wine business, he knew what he wanted from the wine, a Bordeaux style with a certain velvet quality.
You must be logged in to post a comment.
Log In If You're Already Registered At Cigar Aficionado Online