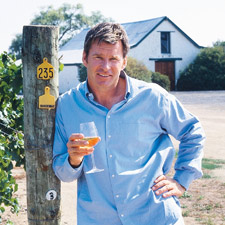 On a visit to Australia in 2002, Nick Faldo hooked up with winemaker Wayne Stehbens of the Katnook Estate to develop his own label of Shiraz, Cabernet and Sauvignon Blanc.
Golfers Uncorked
Many world-renowned present and past tour professionals have invested heavily in the world of wine and are turning out top-quality wines
(continued from page 1)
But for some of the golfers, their efforts in the wine world include a pure joy about creating something they can be proud of, something that fits in with the casually sophisticated lifestyle of the game and the life they lead.
"It was never really a business for me," says Ernie Els. "It was my friendship with Jean Englebrecht [the winemaker and his original partner]. Jean talked me into buying this beautiful piece of land. It started as a hobby, really. Maybe not ever looking at it as a business, but just what it was like to be involved with the winemaking, the growing."
In finding out what was involved in the growing and the winemaking, Els found out something else, something the others have discovered to various degrees.  "After a while I realized the connection between wine and the land, and between golf and the land," says Els. "They are very much related."
So here are the players, in alphabetical order, and their wines, their reasons and their expectations.
Fred Couples
When Fred Couples' people were looking for a winemaker to produce a quality wine under Couples' name, they were told that Mitch Cosentino of Cosentino Vineyards in Napa was their man.
"I told them I make high-quality, small-quantity production," says Cosentino, a pretty fair golfer himself. "They said Fred wants everything high quality. They flew out in November of 2008 and tasted a bunch of wine. That's when I met Fred . . . He said he wasn't real knowledgeable about wine, but that it was part of his lifestyle. We did some barrel tastings.  He and I meeting was very important. We got along right away."
The ultimate product of that meeting was wines bottled under the label of Couples & Co (for Cosentino). Cabernet, Sangiovese and Chardonnay are being offered. There was a soft release of his Cabernet at the Presidents Cup at Harding Park last year, where he was the captain of the U.S. team. He gave a magnum of the Cabernet to each of the International team players.
According to Jim Nylen, a partner in the Purecru wine company which is producing Couples' label, 520 cases of 2006 Cabernet, 1,050 cases of 2006 Sangiovese and 622 cases of 2009 Chardonnay have been produced. 
Luke Donald
The fates conspired to bring Luke Donald into the wine world. Growing up in England, Donald often watched his parents enjoy a glass of wine with dinner. As a blossoming junior player, Donald chose to attend Northwestern University in Chicago, where as a three-time NCAA All-American player he met Bill Terlato of Terlato Wine Group.
You must be logged in to post a comment.
Log In If You're Already Registered At Cigar Aficionado Online