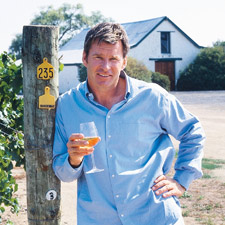 On a visit to Australia in 2002, Nick Faldo hooked up with winemaker Wayne Stehbens of the Katnook Estate to develop his own label of Shiraz, Cabernet and Sauvignon Blanc.
Golfers Uncorked
Many world-renowned present and past tour professionals have invested heavily in the world of wine and are turning out top-quality wines
It was more than a bit ironic and just a touch comical that Jack Nicklaus found himself in a wine facility in the Napa Valley in 2009, a table filled with hundreds of wine glasses before him. Nicklaus, the greatest player of all time, had never been much of a drinker during his championship career.
He wasn't really drinking this day, either. He was tasting blends of what would become his own wine label. "I had to spit it all out or I would have been looped," says Nicklaus.
Bill Terlato, the Golden Bear's partner in the venture and the Terlato Wine Group's president and CEO, insisted that Nicklaus be involved in the winemaking from the outset. "It was Jack, [sons Jackie and Gary], me, my father, Tony, and brother John," says Terlato. "We did the tasting of the blends. There was a great photograph taken where there is like 50 wine glasses in front of each of us, hundreds of glasses on the table. Somebody took a picture and sent it to [Jack's wife] Barbara, who couldn't believe it." It was only a matter of time before Nicklaus jumped into the vats with both feet. He did just that in 2010 after the wines created that day were finally ready for the market.
From rolling vineyards to rolling fairways, from restaurant to clubhouse, from the first tee to the first sip, wine and golf are a natural pairing with their common links to the earth, or terroir. Golf and wine each depend on land, and the people who shape it and take sustenance from it. A natural association. And over the last two decades, those golfers with wine affiliations now take up more than one tee time, or even two.
Nicklaus, Arnold Palmer and Gary Player—the greatest threesome in history—each has his own wine label. Greg Norman has long had his own label as part of his vast Great White Shark business empire. David Frost was born to the vineyards in South Africa. Fellow South Africans Ernie Els and Retief Goosen have their own wines, and like Frost, their own vineyards.
Six-time major champion Nick Faldo has a wine from Australia. The greatest player in the history of women's golf, Annika Sorenstam, is producing wine at the boutique level. So is Luke Donald as is Fred Couples. And Mike Weir, Canada's best player, is turning out wines from the Niagara Peninsula of Ontario.
More than a few have ended up with the family-owned Terlato Wine Group. Bill Terlato is a good player himself, and really got started by working as an advisor to Donald whose wines are produced by his company. Terlato's company also imports Ernie Els' wine to the United States.
"Certainly in the brand recognition area they had lots of offers flying around out there, but they all wanted their names attached to a quality wine," says Terlato. "They think that having a high-quality wine fits with who they are as persons, and fits their brand." For Nicklaus, who introduced his wines in June, it was about capitalizing on his name while also realizing that there was a great deal of joy in the process. It didn't hurt that Bill Terlato was a member of Nicklaus' The Bear's Club in Jupiter, Florida.
"When we first came together I sort of tried to talk him out of it," says Terlato. "I told him that it wouldn't be a case of just finding a commercial wine to slap his label on because we aren't the right sort of people for that. I said you need to be involved, need to know about the wine, participate in the tasting and blending, understand where it came from, the vineyards and the lots. He was all okay with that."
The wine business isn't just for fun. For legends such as Nicklaus, Palmer and Player, wine offers them an opportunity to expand their profile, both from a business angle and a personal angle. They can put their own labels in the clubhouses of courses they design and on the corporate tables of companies they represent.
You must be logged in to post a comment.
Log In If You're Already Registered At Cigar Aficionado Online