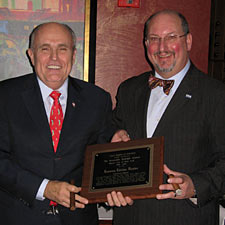 Rudolph Giuliani (left) and Glynn Loope at the Grand Havana Room.
Rudolph Giuliani Honored by Cigar Rights of America
David Savona
Posted: December 22, 2010
Rudolph Giuliani, who stood tall as mayor of New York City during its darkest hour on 9/11, accepted an honorary lifetime membership from Cigar Rights of America yesterday at the Grand Havana Room in New York City.

Giuliani, a passionate cigar lover who has appeared on the cover of Cigar Aficionado magazine, accepted the award from J. Glynn Loope, executive director of the CRA, and Ron Melendi, president of the New York Tobacconist's Association.

"Mayor Giuliani is one of the most influential political figures in the nation," said Loope yesterday. "This is a big boost for Cigar Rights of America."

The ceremony was private, but Cigar Aficionado was invited to attend. Before the formal presentation of the plaque commemorating Giuliani's leadership for New York City, the former Mayor sat with Loope, Melendi and a small group from the CRA and New York Tobacconist's Association and had a cigar, and agreed to an interview. Loope handed him a cigar perfectly suited to the occasion, the new Broadway Series by La Aurora, made exclusively for sale in New York cigar shops, and the former mayor lit up.

Cigars were essential tools during Giuliani's years as mayor of New York City from 1994 to 2001. "A lot of legislation in New York City got passed because of cigars," he said, pointing to his negotiations with the city council. Giuliani was a Republican, the city council Democratic, and the mayor was often at odds with council speaker Peter Vallone. "The way I got things through the city council, Peter would have a cigar, I could have a cigar, and we would compromise."

Mayor Giuliani spoke about his long history of smoking cigars. His first came long before he could be called an aficionado. "My father caught me smoking a cigarette," he said. "He grabbed the cigarette, threw it down, and gave me a White Owl cigar. I smoked it and I loved it, or maybe I pretended to love it," he said with a laugh.

Giuliani's father was a cigar smoker, and the young Giuliani remembered watching his father and others light up to watch Yankees games, or at boxing matches. "At the fights, you couldn't see if you didn't get close enough [due to all the smoke]," he said. He smoked a pipe in college and law school, took a break from smoking for a time, and took it up again in earnest after a trip to Jerusalem around 1995. "I haven't stopped since," he said.

Cigar stores are one of the few places in America where smoking is still allowed, although in some states even those places are off limits to puffing in peace. Giuliani spoke about the CRA's mantra, protecting the rights of cigar smokers.

"People who want to smoke, should be able to smoke.  As long as they can do it without hurting other people," said Giuliani. "Even if I wasn't a cigar smoker, it would make sense to me that people should have places to smoke. There should be a reasonable number of places for people to smoke. Not everywhere."

Giuliani feels that smoking restrictions should allow for the rights of the smoker and non-smoker alike, and pointed to the smoking laws in New York City during his tenure as mayor, which allowed for smoking areas in properly ventilated rooms of restaurants, allowing smokers to enjoy a cigar without bothering those who didn't wish to be around the smoke. "I always thought that was a fair compromise," he said. "To ban it completely, I think it does affect people's rights."

When asked about the New York State cigar tax, which recently spiked to 75 percent of the wholesale price of a cigar and has been impacting sales, according to New York City shop owners, Giuliani said "There's a point of diminishing returns with any tax." He also said that with taxes on items such as cigars, some politicians neglect the financial benefit of a tax due to the nature of what is being taxed. "It isn't just to collect revenue,' he said. "It's to stop you from doing it."

This was the second lifetime membership awarded by the CRA. The first went to Las Vegas Mayor Oscar Goodman.

"We're creating an alliance of current and former office holders that are obviously cigar enthusiasts, but secondarily are able to help us in the community by advocating a cigar political agenda in a manner that we can't always get across ourselves," said Loope. "


Rudolph Giuliani appeared on the cover of the December 2001 Cigar Aficionado. To read the cover story, click here:
You must be logged in to post a comment.
Log in if you're already registered.
---
---
Search our database of more than 17,000 cigar tasting notes by score, brand, country, size, price range, year, wrapper and more, plus add your favorites to your Personal Humidor.
---
---