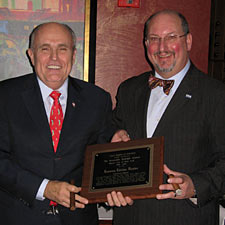 Rudolph Giuliani (left) and Glynn Loope at the Grand Havana Room.
Rudolph Giuliani Honored by Cigar Rights of America
David Savona
Posted: December 22, 2010
(continued from page 1)
When asked about the New York State cigar tax, which recently spiked to 75 percent of the wholesale price of a cigar and has been impacting sales, according to New York City shop owners, Giuliani said "There's a point of diminishing returns with any tax." He also said that with taxes on items such as cigars, some politicians neglect the financial benefit of a tax due to the nature of what is being taxed. "It isn't just to collect revenue,' he said. "It's to stop you from doing it."
This was the second lifetime membership awarded by the CRA. The first went to Las Vegas Mayor Oscar Goodman.
"We're creating an alliance of current and former office holders that are obviously cigar enthusiasts, but secondarily are able to help us in the community by advocating a cigar political agenda in a manner that we can't always get across ourselves," said Loope. "

Rudolph Giuliani appeared on the cover of the December 2001 Cigar Aficionado. To read the cover story, click here:
Comments
2 comment(s)
John Hansell — Emmaus, PA, 18049, — December 22, 2010 10:47am ET
---
Mike Klink — Salisbury, PA, USA, — December 22, 2010 1:46pm ET
---
You must be logged in to post a comment.
Log In If You're Already Registered At Cigar Aficionado Online