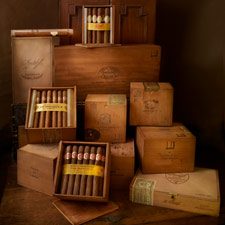 Rare Cubans Do Well At London Auction
Nick Hammond
Posted: December 2, 2010
(continued from page 1)
In all, 300 lots went under the hammer, and there were bargains to be had, too. A box of Partagas Presidentes from 2000 went for £210 ($327) and a box of figurados, said to be rolled in the U.K. from Havana leaf way back in the 1920s, fetched just £300 ($468).
There was spontaneous applause once the final lot was concluded-as much to indicate everyone's enjoyment of the evening as well as their delight it was time to thaw out in the bar-and Champagne, canapés and yet more warming Scotch ended the night.
"It was labeled the biggest auction of rare, vintage and mature cigars ever—and it was certainly the coldest!" said co-organizer and cigar merchant Mitchell Orchant of C.Gars Ltd. "But the bidding was brisk, we raised a lot of money for two very worthwhile charities and everyone enjoyed themselves. We had people flying in from America, Japan, Hong Kong and all over Europe to be part of this auction. It just goes to show the extraordinary passion that fine cigars still generate, despite every attempt to stop us enjoying them."
You must be logged in to post a comment.
Log In If You're Already Registered At Cigar Aficionado Online