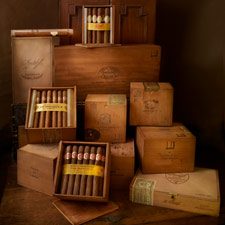 Rare Cubans Do Well At London Auction
Nick Hammond
Posted: December 2, 2010
Swirling snow failed to dampen the enthusiasm of cigar collectors in London Tuesday night.
A 50-strong gathering of buyers spent more than £250,000 between them (a cool $390,000) as temperatures dipped to -3° Celsius on the cigar terrace at Boisdales of Belgravia.
Legendary cigar collector Alex Wong, who owns a huge Havana cigar collection in Hong Kong, was among those bidding for pre-embargo Cubans in a charity auction.
Blankets, heat lamps, Scotch and, of course, United Kingdom Regional Edition Havana cigars were handed out to patrons to keep them warm as the bidding heated up under the auspices of former Christie's auctioneer Brian Ebbesen.
The star lot of the night was an Elie Bleu Presidencia Humidor, which after an exciting battle of wills between bidders fetched an impressive £24,000 ($37,000).
Next came an extraordinary Churchill humidor made in honor of the legendary British leader, personally handed over to the auction by his great granddaughter Jennie.
The Elie Bleu Presidencia Humidor signed by Fidel Castro.
The humidor, signed by both Jennie Churchill and the late Cuban tobacco farmer Alejandro Robaina, raised £16,000 ($24,000) plus fees for charity.

"One-hundred and thirty-six years ago today my great grandfather was born," Jennie Churchill told Cigar Aficionado at the auction. "I think we all now realize that the world would be a very different place if he had not. As he once famously said: 'I'm a man of very simple tastes; easily satisfied by the best!' That of course included cigars and I'm delighted to be able to auction this wonderful humidor for both Action Against Hunger and Prostate Cancer."
Other lots which attracted fierce bidding included another Elie Bleu humidor featuring an image and engraved signature of Che Guevara that fetched £9,000 ($14,000); a box of 1980s Dunhill Selection 150 Partagas at £7,800 ($12,000) and a cabinet of 50 Belinda Belinda candela-wrapped cigars from the 1950s, measuring 6 1/8 inches by 44 ring, which ended at £3,700 ($5,700). Lot 110 went for a considerable sum-the box of 10 Dunhill Selección No 779 Romeo y Julietas, measuring 7 1/2 inches by 48 ring, sold for £11,500 plus fees ($18,000).
You must be logged in to post a comment.
Log In If You're Already Registered At Cigar Aficionado Online