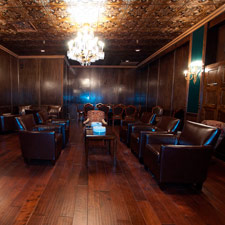 In 1881, renowned architect Louis Sullivan built the five story building that Iwan Ries calls home.
Iwan Ries, Chicago
(continued from page 1)
"We have an eclectic membership base," said Richard Bley, ambassador for the lounge. "We'd like to keep it word of mouth."
Colder weather brings in more traffic than the summer months.
Bob Miller, president of Earthwise Environmental Inc. in suburban Bensenville, travels into Chicago frequently and says business works well over a cigar. "I've met [prospective] clients to discuss a proposal in the conference room a few times," said Miller. "We bought sandwiches and had lunch and meeting for an hour and a half. It's a perfect setup."
At age five, Lou Conforti got his introduction to Iwan Ries when his uncle brought him along on a shopping trip. "This is a respite from the rest of the world," he says. "I like to come in after the market closes or on the weekend. Occasionally I'll have a business meeting here. It's inclusive, everyone is kindred spirit. It's nice to have an intellectual conversation and a good smoke. When you come in it forces you to decompress and relax."
Bankruptcy lawyer Mike Benz is one of the morning patrons. "I concentrate better; I think it has something to do with cigars," said Benz, whose office is three blocks away. "I write briefs here. It's great to be able to smoke and work."
George Souri manages Atria Capital, an investment company. "We've lost the sublime appreciation for fine things," said Souri. "This is a gentlemen's club. The room is beautiful; the leather chairs are comfortable. It's a place that fosters camaraderie and friendship. The business contacts are a nice benefit. The mix of people gives a center to expand a tradition. You're with company you enjoy."
Annual membership in the lounge is $750. Day passes are available for $15.
Iwan Ries
19 S. Wabash Ave., 2nd Floor
Chicago, IL 60603
800-621-1457
Store Hours
Monday to Friday: 9:00 to 5:30
Saturday: 9:00 to 5:00
Sunday: Closed
Lounge Hours
Monday to Saturday: 9:00 to 10:00
Sunday: 11:00 to 6:00
Comments
4 comment(s)
Taylor Franklin — December 1, 2010 10:51pm ET
---
Christopher Hill — Chicago, Illinois, United States, — December 4, 2010 11:47pm ET
---
M M — NAPERVILLE, IL, UNITED STATES, — December 21, 2010 4:30pm ET
---
Mark Domke — chicago, il, United States, — June 14, 2011 12:48am ET
---
You must be logged in to post a comment.
Log In If You're Already Registered At Cigar Aficionado Online