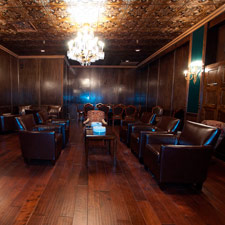 In 1881, renowned architect Louis Sullivan built the five story building that Iwan Ries calls home.
Iwan Ries, Chicago
For Chicago area cigar smokers, January 1, 2008, marked a dramatic change. When the smoking ban was enacted in Chicago, people scrambled for a habitat to savor their pastime among friends.
Excluded from public venues, for many the basement was their only viable option. Understanding a dire need, Iwan Ries manager Kevin Levi offered a solution.
"We talked about putting in a lounge [for a while]," said Levi. "When the ban came in, that's when we got it going. It went well from the start."
Businessmen who work in downtown Chicago discovered Iwan Ries' cigar lounge is an elegant suite that doubles as an ideal office or after-hours venue to unwind. It's hard for a cigar enthusiast to find a place with deeper, richer history.
Opening for business in 1857, Iwan Ries is the second oldest tobacconist in the country. Levi, who represents the fifth generation, runs the daily operation on the second floor at 19 S. Wabash Avenue, in the heart of Jewelers Row, where the shop has been since 1968. With over 100 brands and 1,000 varieties to choose in their 2,500 square feet room, cigar mavens won't have a problem securing premium quality smokes.
Renowned architect Louis Sullivan built the five story building in 1881; it's his oldest living structure. Frank Lloyd Wright, who apprenticed as a draftsman for Sullivan at the time, is believed to have worked on this project. The expansive windows facing west offer a panoramic view of the El subway, a short touchdown throw away and the bustling scene below. Two decorated steel columns, standing outside the window, lend aesthetic distinction. [The third one was sent to the Smithsonian in 1955].
Designed for the Millionaires Club in 1960, you notice the meticulously handcrafted original mahogany, oak and majestic cedar woodwork highlighted by brass and crystal chandeliers.
Flat-screen televisions are at both ends of the room. A refrigerator, sink and coffee machine are available in the front. A small humidor with approximately 25 unique frontmarks sits in the room, and 83 varieties are available in the shop proper located down the hall.
Last July, the lounge underwent an expansion that doubled the size. Double doors now open to a second room where half of the 54 members have private humidor lockers. A conference space with fax machine and copier can be reserved for meetings. The area is equipped with WiFi.
A few people come in during the morning, but late afternoon is when the regulars recline. While the adjoining chambers can hold 50 comfortably, Iwan Ries prefers an intimate contingent instead of a crowd.
Comments
4 comment(s)
Taylor Franklin — December 1, 2010 10:51pm ET
---
Christopher Hill — Chicago, Illinois, United States, — December 4, 2010 11:47pm ET
---
M M — NAPERVILLE, IL, UNITED STATES, — December 21, 2010 4:30pm ET
---
Mark Domke — chicago, il, United States, — June 14, 2011 12:48am ET
---
You must be logged in to post a comment.
Log In If You're Already Registered At Cigar Aficionado Online