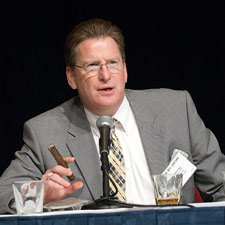 Senior features editor Jack Bettridge lead the seminar.
Big Smoke Sunday Seminars: Single-Malt Scotch and Cigars
David Savona
Posted: November 18, 2010
(continued from page 1)
Scotch and cigars go well together, said Bettridge, but it takes experimenting to find the right combination. "There's such a spectrum of single malts," he said, "once you find a match it's like an old bachelor finding a girlfriend and you're paired for life."
The Macallan was next, and Bettridge explained its flavor. "It starts off creamy and explodes on your palate. There's all this fruit and then some sharp licorice on the end." He enjoyed how it worked with the cigar. Quesada, a big fan of Macallan, jumped ahead to drink it with his second cigar, the Casa Magna.
The final Scotch whiskies were Bowmore 15 and Ardbeg 10. They're both from the Islay region, a part of Scotland known for peat, but each was quite different from the other. "You might be surprised by Bowmore," said Bettridge. "It's not a peat monster. It's a beautiful whisky made in bourbon barrels."
The Ardbeg was significantly peatier. "This is a big, big Scotch," said Bettridge. "You get hit by that smoke."
Karl Frigan, Eric Gaudreault and Kevin Kealy enjoying the seminar.
The panelists paired the next smoke with each Scotch. Quesada thought the Auchentoshan and Macallan both paired really well with both cigars, "because they don't compete with the cigars, they complement them."

A poll of the crowd found the Tributo went best with the Macallan, and the majority felt that the Casa Magna went best with Bowmore.
Soon it was time to conclude the Big Smoke. The happy cigar aficionados wandered out in groups, ready to travel back home, their bags stuffed with cigars. Many vowed to return next year when Cigar Aficionado magazine comes back to Las Vegas for the 2011 Big Smoke Las Vegas Weekend.
Big Smoke Weekend Photo Gallery
Coming Friday!
Big Smoke Sunday Seminars
Breakfast with Charlie Palmer
Roll Your Own with Team La Gloria
Big Smoke Saturday Seminars
Top Legal Cigars of the Year
Tobacco Lands
Counterfeit Cigars
Brand Builders
Lunch
You must be logged in to post a comment.
Log In If You're Already Registered At Cigar Aficionado Online